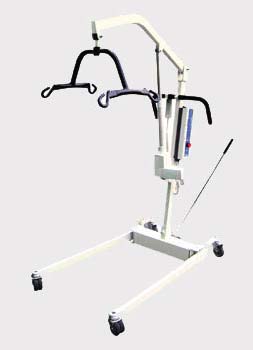 Drive Bariatric Power Patient Lift
The Bariatric Patient Lift from Drive Medical Design has an amazing weight capacity of 600 lbs. This lifting ability is provided by the jumbo actuator pump, which is equipped with an emergency button for manual lowering. The base legs open and lock into place using the padded shifter handle, to ensure safe transfers.
This lift is also incredibly versatile. The extra-wide cradle rotates 360 degrees to complete difficult transfers effectively and safely. The Bariatric Electric Patient Lift can also accommodate high transfers with a maximum boom height of 74.5".
This battery is also easy to charge and maintain. The unit plugs directly into the wall, so you don't have to fuss with removing the battery in order to charge it. The battery will also last through multiple cycles, so you don't have to worry about charging it constantly.
The Bariatric Patient Lift is a great choice for anyone who needs a dependable and durable lift to help with transfers that might otherwise be extremely difficult.
Features
600 lb. weight capacity!
Dual, heavy-duty front casters
Jumbo actuator pump, with emergency release
Specifications of the Drive Bariatric Power Patient Lift include:
Weight Capacity: 600 lb.
Boom Maxiumum Height: 74.5"
Boom Minimum Height: 32"
Base Width Open: 45.75"
Base Width Closed: 25.75"
Base Height: 4.25"
Base Clearance: 2"
Front Casters: 3"
Rear Casters: 4"
Product Weight: 127 lb.