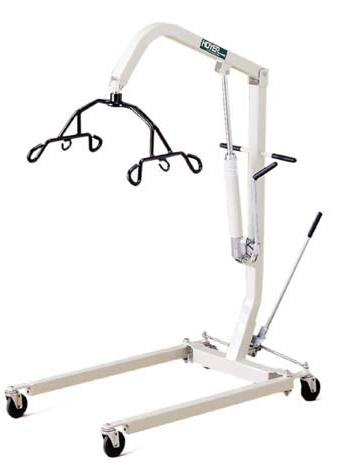 Hoyer Four Point Hydraulic Patient Lift
This hydraulic lift has an angular design with a non-sway cradle for extra stability and the convenient rotating pump-handle allows operation from both sides of the lifter. The full travel height allows lifting from the floor and the easy-to-adjust base legs lock securely into position.
The Hoyer four point patient lift is an updated version of the Hoyer Classic hoyer lift which has been around for decades. The curved boom and four point sling cradle are definite improvements over the older style.
Specifications:
Width: 28in to 77in (61cm to 108cm)
Length: 43.5in (110cm)
Base Clearance: 5.5in (14cm)
Weight Capacity: 400 lbs. (182 kg)
Lift Range of Boom: 28in to 77in (196cm)
Weight: 101 lbs.
Warranty: 1 year
Caster Size: 4"