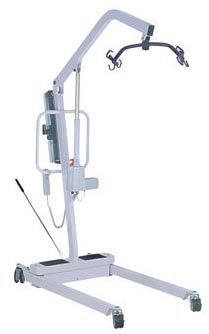 Drive Medical Power Patient Lift
This Electric Patient Lift is one of the most economical, yet dependable, electric lifts available. It charges from any AC outlet, and has a "Charge" light that shuts off automatically when batteries are charged to full capacity. It also has a "low battery" beep that lets you know when the unit needs to be charged (when power drops below 50%).
This lift will work with 2 and 4 point slings, so it can accommodate a variety of transfer needs. The Electric Patient Lift also has a manual lowering "emergency" button in case the battery power is depleted while the lift is in the raised position. Plus, the mast and base of this unit fold for easy storage.
This lift is so simple...to use, charge, and store. At such an affordable price, the Electric Patient Lift from Drive Medical is a great choice for home care.
Features:
Economical power patient lift
Emergency Manual Lowering
On-board Charger
Specifications:
Weight Capacity 450 lbs.
Base Height 2"
Base Width (closed) 24"
Base Width (open) 41"
Front Caster 3"
Rear Caster 4"
Maximum Lift Height 76"
Minimum Lift Height 26"