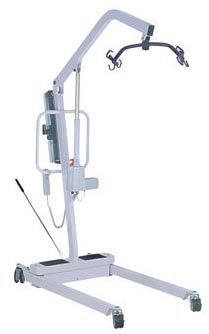 Invacare Jasmine Power Patient Lift
The Invacare Jasmine Full Body Lift has innovative features that provide safer handling within a 500 pound weight capacity. The Jasmine can expertly function in more challenging situations with a rotating 360 degree 6-point hanger bar and 16.4" minimum height range, essential for helping those who may have fallen to the floor.
It also has a stable spring-loaded hanger bar the produces an audible click when the sling is engaged. This assures the caregiver that the sling is properly attached.
Additionally, the Jasmine features a battery-powered boom and wide-opening base that can easily accommodate a wheelchair.
Features
Push handle for easy manoeuvrability
Battery powered boom and base that are controlled through the hand pendant
Lifting range of 16.4"-74.6"
Specifications:
Base Length 49"
Base Width CLOSED-25.8" OPEN-46.7"
Height at sling hook-up MINIMUM-16.4" MAXIMUM-74.6"
Weight Capacity 500 lbs.
Weight out-of-carton 98 lbs.
Caster Size (Front/Rear) 4"
Power 24V DC (Rechargeable)
Warranty 3 years on Lifts, 2 years on Electronics