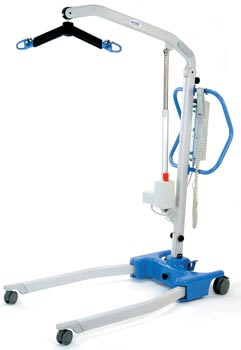 Hoyer Advanced Patient Lift
The Advanced Manual Patient Lift from Hoyer represents a true step forward in patient lift design and performance. It uses the very latest design and manufacturing technologies to ensure the Advance is the most functional and stylish lift in its class today.
This patient lift is available as both a power lifter as pictured to the right or as a manual patient lift and is foldable without the use of tools for easy storage and transporting.
The Advance's unique Swan neck leg design allows the lift to get close to even the widest of obstacles. The Swan neck design also ensures that the client feels safe and secure during the transfer.
Features
Caster brakes included.
6-Point Swivel Bar and adjustable width base.
Includes sling chains.
Specifications:
Safe Working Load: 340 lbs.
Maximum Overall Length: 4 ft. 3 in.
Minimum Overall Length: 4 ft. 1 in.
Maximum Overall Height: 5 ft. 11 in.
Minimum Overall Height: 4 ft. 5.5 in.
Folded Height: 1 ft. 5 in.
Folded Depth: 3 ft. 10 in.
Folded Width: 1 ft. 10 in.
Spreader Bar Maximum Height: 5 ft. 4.5 in.
Spreader Bar Minimum Usable Height: 1 ft. 3 in.
Spreader Bar Height at Maximum Reach: 3 ft. 9 in.
Spreader Bar Reach at Maximum Height: 2 ft. 4 in.
Spreader Bar Reach at Minimum Height: 1ft 7in
Spreader Bar Maximum Reach: 2ft 9in
Spreader Bar Turning Radius: 3 ft. 5 in.
Leg Open External Width: 3 ft. 8 in.
Leg Open Internal Width: 3 ft. 10 in.
Leg Closed External Width: 2 ft. 1 in.
Leg Closed Internal Width: 1 ft. 10 in.
Leg Overall Height of Legs: 4.5 in.
Ground Clearance: 1.2 in.
Front Twin Casters: 3.3 in.
Rear Braked Casters: 4 in.
Mast, Base & Boom Assembly: 64 lbs.
Total Weight: 64 lbs.
Base Assembly 33 lbs.
Boom 31 lbs.
Sling Use/Type: Hoyer Grey Looped