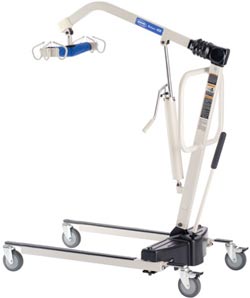 Invacare RHA450 Hydraulic Floor Lift
The Invacare line of Reliant lifts was conceived to prevent caregiver back injury and to ensure dignity in patient handling. These high-quality lifts are comfortable, reliable and integral tool for staff and caregivers.
Using the lift for patient handling reduces staff injuries, saving you money and reinforcing safety as a priority in your healthcare facility.
Reliant Plus lifts support up to 450 pounds, making potentially challenging transfers smooth for resident and caregiver. The new higher lift range allows easy access to beds, chairs, toilets, floors, and tubs (with at least 6.8 in clearance).
The sturdy and practical design of Reliant Plus lifts provides the solution you need for success in your quest to provide safe and effective health care.
The Reliant RHA450 hydraulic floor is also available in a low base model for use in situations where the standard height base is too tall to fit under beds and furniture.
Features:
Base legs adjust easily and lock securely into open position with the padded shifter handle.
Total pinch-point protection covers all moving parts for added safety.
Height range allows lifting from floor and high surfaces
Safety-tested with mark for highest quality standards.
Hydraulic pump mechanism allows transfer of up to 450lbs with minimal effort.
Padded swivel bar with 360 degrees rotation and six-point hookup allows use of Invacare chain-free slings as well as older-style slings with chains or straps.
Covered base provides protection against wear, dirt and moisture.
Warranty includes three years on lift, one year on hydraulic pump.
Specifications:
Base Length: 48"
Base Width: Open: 41" Closed: 26.5"
Caster Options: Front: 5" Rear: 5"
Overall Height: Max @ sling hookup: 73" Min @ sling hookup: 27" Base height: 6.8" (clearance)
Product Weight: 93 lb
Product Weight Capacity: 450 lb