Action® Wheelchair Cushions & Products
| Action Home | Action Flat Cushions | Action Contour Cushions | Action Accessories |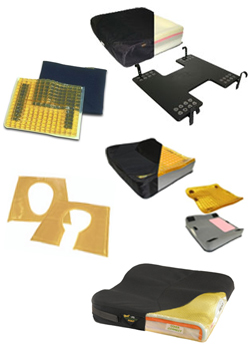 Action® Products Inc. have been in business since 1970 and produce a variety of products utilizing AKTON® Viscoelastic polymer.
AKTON® Viscoelastic polymer was created by founder Dr. McElroy, during his pursuit to develop a pressure relieving material that would help prevent pressure sores in immobilized patients and is only available from Action® Products Inc.
In addition to other medical products, Action® Products Inc. produces a full line of wheelchair cushions and pressure relieving products utilizing AKTON® Viscoelastic polymer.
I have categorized the Action portion of this section of wheelchair.ca into three different sections based on the attributes of the products.
The flat wheelchair cushions and pads section handles the flat products available in wheelchair seat sizes that can be used on their own or in conjunction with a contoured wheelchair cushion.
The Xact® series of wheelchair cushions are contoured cushions incorporating Akton® polymer and high quality foams.
The seating accessories and other pressure relieving products is the third section of Action® products.
Action® Products are avialble from most wheelchair vendors in Canada.