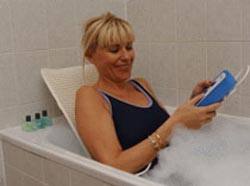 AquaJoy Bath Lift
With no installation required, the AquaJoy Premier PLUS Bath Lift makes getting into and out of the bathtub safe, simple and easy. Its universal design fits every standard bathtub and has a robust 375-pound capacity.
As with all Harmar products, the AquaJoy Premier PLUS continues the tradition of high quality products designed to be easy to use and simple to install.
The AquaJoy Premier Plus is a two piece, lightweight, battery operated bathlift which fits into any size bath. It can be electronically reclined or stopped at the desired sitting position, allowing the individual to choose the most comfortable bathing position.
Features:
Easily lowers and raises the patient inside the bathtub
Washable foam padding
User can automatically recline up to 40 degrees
Suction cup feet
Waterproof and floating large button hand control
Battery charger
Specifications
Width of seat with extended seat side flaps: 27"
Width of seat with seat side flaps folded in: 15.3"
Height of seat in lowest position: 3.1"
Height of seat in its highest position: 18.1"
Depth of seat measured from backrest to front seat edge: 23.8"
Height of backrest: 23.8"
Width of backrest: 13.4"
Weight capacity: 375 Lbs.
Total weight without battery: 27.5 Lbs.
Weight of seat: 16.3 Lbs.
Weight of backrest: 11.2 Lbs.
Weight of battery hand controller: 1.4 Lb.
Duration of stroke: (176 lb. load) UP approx: 50 seconds, DOWN approx. 35 seconds
Charging time with flat battery: Approx. 4 hours
Battery size: 13.2V 100mAH