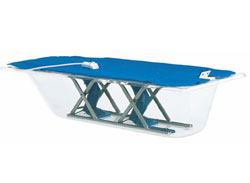 Aquatec Major Bath Lift
The Aquatec XL is a battery powered bath lift that offers a weight capacity of up to 170 kg (375 lbs.). The XL has the ability to recline to 40 degrees. The compact construction with its minimum seat height of only 2 1/2" grants plenty of room for a relaxing bath.
The advantage of battery powered bath lifts is they don't have to be hooked up to the building water supply and can easily be moved from location to location. The disadvantage is, they require regular charging of the battery and occasionally replacement of the battery.
Battery powered bath lifts are constructed to withstand moisture to protect the electrical parts. Because the batteries are relatively low voltage, the chance of electrical shock is highly unlikely or dangerous. The hand control that is used to operate the bath lift will float if dropped into the water while bathing.
The maximum seat height the bath lift will elevate to is 17". Because some of today's bath tubs may be deeper than this 17", Aquatec bath lifts have available optional risers to extend the upper limit of elevation to 18", 19" or 20". While these risers allow the bath lift to raise higher, they also prevent the lift from lowering as far into the bath tub an equal amount.
Features:
2 1/2" minimum seat height is the best in the industry
Reinforced lifting mechanism
Ergonomic floating hand control
Lift function will not allow the lift to descend if there is not enough battery power present to raise the user
Foldable with one hand and easily dismantles into two parts
Specifications:
Recline Angle: 10 to 40 degrees
Seat Depth:19"
Seat Width:15", 28" with flaps down
Overall Length:24", 33" reclined
Back Height: 26"
Back Width: 14"
Base Width: 11"
Base Length: 23"
Height Adjustment: Minimum Lift Height 2 1/2", Maximum Lift Height 17"
Product Weight Capacity: 375 lbs.
Product Weight: 26 lbs.
Battery:Lithium-ion rechargable battery pack allows 6 lifts with fully charged battery and maximum load capacity
Warranty:All Aquatec bath lifts are covered under a three year warranty, excluding cover material and suction cups. Handsets and batteries are covered for two years from the date of purchase