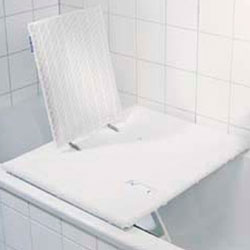 Aquatec Classic Water Powered
Bath Lift
The Aquatec Classic is no longer listed on the manufacturer's website although parts and accessories for the Classic still appear. It seems that it may have been discontinued in favour of battery operated models. Some dealers may continue to have stock if you're looking for a water powered bath lift.
The Aquatec Classic is an affordable water-powered bath lift. Ideal where simplicity is important. The back rest can be removed when in use, offering the user the ability to lay back in the bathtub.
Water powered bath lifts are operated by a lever that controls a water valve. This lever can be ordered on the right or left side of the bath lift as needed. When the lever is moved in one direction, water pressure is used to lift the seat, and user, to the top of the tub for transfers. When the lever is moved in the opposite direction water pressure is released from the lift allowing the user to be lowered to the bottom of the lift.
Because the Aquatec Standard is water powered, the lift must be hooked into the water supply of the building. This can be accomplished by using either a tub spout with a diverter vale built in or a diverter valve that is used in conjunction with the shower head.
Although there is a bit of installation to do with the diverter valve, the lift can easily be disconnected from the water supply and removed from the bath tub using the supplied quick release couplings.
The removable back rest allows the Aquatec water powered bath lift to be easily be transported to other locations however there must be a diverter valve at the new location to hook up to. Installing a shower head diverter is easily done with minimal tools and knowledge for those who want to travel with their lift.
The back rest on the Aquatec standard bath lift is also removeable while in use to allow the user to lay back in the bath tub.
Features:
Includes cover mats, suction cups, lift control on seat, 10' supply line hose, diverter and quick disconnect valve and appropriate washers
Water-powered, lower cost model, that comes with non reclining, removable backrest
Hinged side flaps fold in when lift is lowered
Suitable when seating and positioning accessories are not required
Control switch integrated into seat. Available on left or right side