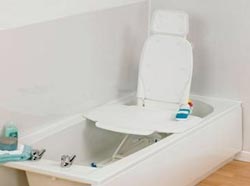 Bathmaster Sonaris Bath Lift
Bathmaster Sonaris Reclining Bath Lift - Sonaris Bathlift. Includes a hand controller with battery and charger.
Combines superb functionality, outstanding performance and great design giving the user a delightful bathing experience. The single-button operation allows the user to descend and keep the backrest upright or to recline back to a more comfortable position, while retaining ample leg room to relax in the bath.
All-plastic construction is easy to clean, yet strong and durable to ensure stability and years of use. The lightweight seat and back simply click together easily for quick assembly, installation and removal.
The Sonaris fits most shapes and sizes of bath tubs with suction-cup feet that may be angled in any direction to suit the curvature of the bath and to ensure stability and safety.
Key benefits of the Sonaris include:
Superior battery provides an amazing 18 lifts per charge (based on 220-lb. load). It only requires three hours to fully charge, so it'll be ready when the user is.


Recline does not occur automatically like other lifts, but is entirely controlled by the user after the lift has completed its descent.


The user can select any angle of recline up to 40° to achieve the most comfortable and suitable position for themselves.


Speed is decreased during the reclining of the backrest so the user feels more comfortable.


Holding points on each component simplify carrying and transportation.


Large side flaps allow easy transfers.


Simple operation; just lightly press the large control pads, which are textured to assist the visually impaired.


An audible beep and warning light identify when the battery requires charging and when to stop using the bath lift.


A built-in safety mechanism ensures the bath lift will not lower if there is insufficient charge in the battery to raise the user.


An automatic sleep facility occurs after 10 minutes of non-use in order to optimize battery performance. Reactivate simply by pressing a control pad.


5 year warranty on frame, 2 years on hand controller, recharger, and cover.