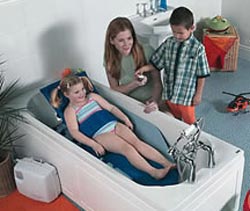 Surfer Bather Pediatric Bath Lift
A powered elevating bathtub lift for children, which minimizes moving & handling risks to therapists, parents and caregivers. Operated by low air pressure using the Airflo battery compressor.
Features:
Portable.
Simple to use.
Stable.
Lightweight.
Adjustable backrest and seat.
Allows a child to be raised and lowered in the bath with a choice of 4 back angles from flat to 70 degrees vertical.
Adjustable pommel.
Chest and leg strap.
Elevates and lowers effortlessly at the touch of a button.
Easy to clean with commercial bathroom cleaner.
Includes Airflo battery operated compressor.
Specifications
Maximum user weight: 110 lbs
Maximum user height: 4' 5"
Overall length: 44"
Platform width: (w.o. flaps/incl. flaps) 16"/27"
Maximum height: 17"
Minimum height: 2.5"
Backrest angle: From flat to 70 degrees max.
Weight of platform (incl. Backrest & Pommels): 9lbs
Weight of Scissors (incl. Bellows): 12lbs