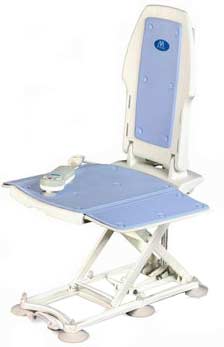 Sterling Bath Bliss 311 Bath Lift
Make bath time a pleasure again with the Bath Bliss bath lift. This great product starts positioned even with the top of your bathtub, you then sit on the lift and slowly lower yourself into the water. It reclines to 45, 35 and 10 degrees - offering both safety and comfort.
The all-plastic patented frame weighs only 23.5 pounds and clips closed to make transferring the unit in and out of the tub easier and safer.
Features
Choice of 3 recline positions - 45, 35 and 10 degrees.
All plastic patented "clip-frame" for durability and ease of moving product.
Maximum lift height of 17 inches.
Specifications of the Sterling Bath Bliss 311 Bath Lift include:
Weight Capacity: 287 lbs.
Weight of Unit: 23.5 lbs.
Maximum Seat Height: 17"
Overall Height of Unit: 39.5"
Length of Unit (Upright): 26.4"
Backrest to Front Edge: 19"
Max Backrest Width 13.9"
Seat to Top of Backrest 22.9"
Width of Seat W/Sideflaps: 26.5"