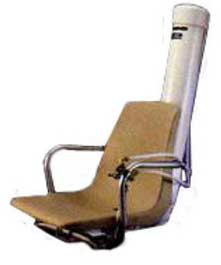 Hoyer Water Powered Tub Lift
This unit has been discontinued. I've left the information about it online for informational purposes.
The Hoyer Water Power Tublift is perfect home care solution. It features a lightweight frame, while having a powerful lifting capability. Using standard household water pressure, the Tublift can steadily and safely raise and lower patient.
Features
Powered by water pressure as low as 20 PSI.
Lifts up to 21 inches and lowers to 5 inches of tub bottom.
Specifications of the Hoyer Water Powered Tub Lift include:
Weight Capacity: 200 lbs.
Product Weight: 19 lbs.
Product Width: 17.5" (19.5" from pivot to seat edge)
Shipping Dimensions (box 1): 28" L x 19" W 23" H
Shipping Weight: 25 lbs.
Base Dimensions: 17.5" W x 21" D
Seat Dimensions: 15.5" W x 15"D
Backrest Height: 15"
Range of Seat: 5" to 21"