Harmar AL065 Inside/Outside Lift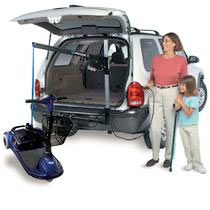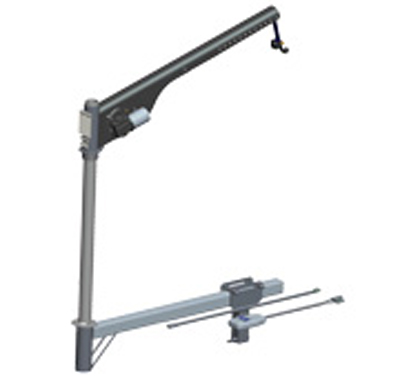 This design attaches outside the vehicle to the hitch, and uses power to vertically lift scooters and light power chairs for manual rotation into the vehicle. The unit requires wiring to your vehicle battery, and the unit itself attaches to a class II (upgrade available) or III (standard) hitch. Completely weather resistant construction. Unit Weight 35 Lbs. Boom Length 35" Total Height 40.5" Length of Base 37.5" Overall Post Height 37"
Features
No need to bolt this lift to the vehicle!
Works for most scooters and some lightweight power chairs.
Attaches to the hitch. Easily removed for storage.
Remote hand control
Disassembles into three pieces for easy storage.
Specifications
Weight Capacity: 200 lbs. (91 kgs)
Operation: Power lifting and Manual rotation
Installed Weight: 63 lbs.
Hitch Class: II or III
Warranty: Three Year Transferable
Warranty
The Harmar Mobility warranty is the simplest in the industry, a 3-Year Fully Transferable Warranty. If the product changes hands, the remainder of the warranty transfers to the new owner. Other manufacturers offer a warranty only on the original owner's usage, but Harmar warrants the product itself.