Harmer AL435 3-Axis Inside Lift
The AL435 adds a powered boom with 12" of additional reach required to clear the rear bumper of larger vehicles and maneuver the largest possible power chair or scooter into the smallest vehicle openings.
More versatile and flexible than any other inside van and pick-up truck lift on the market today, it adapts to most mini-vans, full sized vans, SUV;'s and pick-up trucks. Fits other specialty vehicles such as the Chrysler PT Cruiser.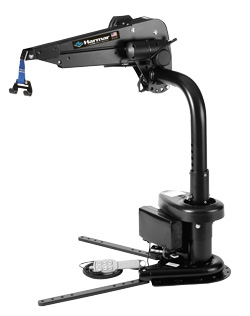 Features
Fully-powered lifting, boom arm and rotation for effortless loading
Only 30" of headroom required
Infinite adjustability of the lift and a variety of interchangeable sub-bases allow for faster installations in more applications
Offset post allows the mobility device to be safely unloaded on the side of the vehicle
Installs on either side of vehicle / easily switchable in the field
Weather resistant hand control (wireless option available)
Docking device included
Universal sub base included; custom upgrades available
Specifications
Model number: AL435
Capacity: 400 lbs (181 kgs)
Installed Weight: 76 lbs
Operation: Power Lift & Rotation
Maximum Lifting Height: 39" at Horizontal Boom Position
Minimum Lifting Height: 31" at Horizontal Boom Position
Boom Adjustment Range: 12" Powered from 21" - 33"
Warranty
The Harmar Mobility warranty is the simplest in the industry, a 3-Year Fully Transferable Warranty. If the product changes hands, the remainder of the warranty transfers to the new owner. Other manufacturers offer a warranty only on the original owner's usage, but Harmar warrants the product itself.