Silver Boom 300 Scooter Lift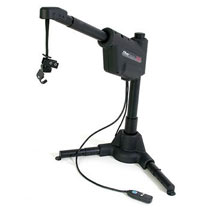 The Silver Boom is a convenient and powerful lift for powerchairs and scooters alike. It has a weight capacity of 300 lbs, allowing you to lift heavy mobility equipment from the ground in the trunk of your car, van, or SUV with little to no effort. The standard docking device included for free, allows you to lift your mobility device once you've removed the seat. The lifting is done using the heavy-duty motor which includes a 3-year, transferable warranty. All you have to do is swing the arm of the lift until your mobility device is directly above the trunk/cargo area, and then lower it down using the convenient hand control.
Features
For scooters and powerchairs
300 lb. lifting capacity
Interchangeable appearance panels
Weight: 52 lbs.
Lifting Capacity: 300 lbs.
Operation - Manual or Power: Power
Warranty Information
For three (3) years from the date of purchase, Pride Mobility Products will repair or replace at their option, free of charge, any mechanical or electrical component found upon examination by an authorized representative of Pride to be defective in material and/or workmanship. This warranty does not extend to those items, which may require replacement due to normal wear and tear.
Labor, service calls, shipping, and other charges incurred for repair of the product, unless specifically authorized by Pride Mobility Products Corporation IN ADVANCE, are excluded.
An authorized Pride Mobility Products Provider must perform warranty service. Do not return faulty parts to Pride Mobility Products without prior written authorization. All transportation costs and shipping damage incurred while submitting parts for repair or replacement is the responsibility of the purchaser.