Harmar AL690 Side-Door Hybrid Scooter Lift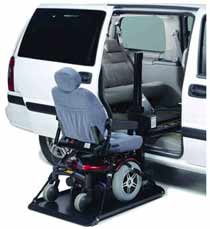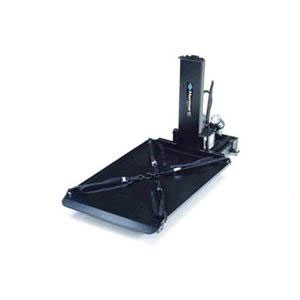 The AL690 is great alternative to rear-loading hybrid lifts. This convenient platform lift mounts to the 2nd row seating, and loads your powerchair or small scooter in through the side door of your full-size or mini van. This places the powerchair much closer to the passenger door (or driver door for a mini-van with left-side sliding door), which makes transferring much easier for those who have difficulty walking.
The AL690 is fully automatic, and operates using the standard remote hand control. This makes loading your powerchair/scooter into your vehicle easy and efficient. No drilling, modifications, or special mounting devices required. Simply drive your mobility device onto the platform, strap it in, and let it do the rest of the work! The AL690 Hybrid lift is powerful, durable, and convenient. It provides a great solution to your transportation needs.
Features
Carries most standard power chairs and shorter scooters
Weatherproof, remote hand control (wireless option available)
No drilling required in most vehicles; connects to existing 2nd row seat hardware
No power chair or scooter modifications required
Third row seat spared in most applications
Delivers power chair or scooter close to driver or passenger door
Works with most minivans and SUVs
Specifications
Lifting Capacity 275 lb (125 kgs)
Headroom Required 32"
Depth Required 55"
Platform Dead Space 4.5" Max
Vertical Reach 33.5"
Platform Size 17" - 28" adjustable width x 38"
Warranty
The Harmar Mobility warranty is the simplest in the industry, a 3-Year Fully Transferable Warranty. If the product changes hands, the remainder of the warranty transfers to the new owner. Other manufacturers offer a warranty only on the original owner's usage, but Harmar warrants the product itself.