Silver Star Backpacker MV SUV Scooter Lift/Carrier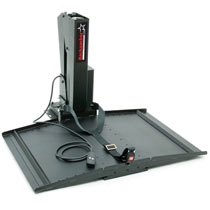 The BackPacker MV unit from Pride Silver Star Lifts loads your scooter or power wheelchair into the cargo area of your SUV for safe keeping, and easily mounts to the existing floor latches when the rear seat is removed, so there are no holes to drill or modifications to your vehicle. And the battery pack option means you don't have to wire it to your car battery either. Just pop it in and go!
The fully automatic single button lift operation means there is no work on your part...the lift moves outward, lowers to the ground, then moves up and into the vehicle entirely on its own. The Backpacker MV features all-steel construction and a protective finish, along with an industrial rated 12 volt motor and battery pack, and easy-to-use controls to combine rugged durability with safe, simple and reliable operation.
Features
Price now includes FREE! Battery Pack. No need to hardwire.
Great choice for scooters or power wheelchairs.
Fits into most SUVs with a 31" opening height
Automatic loading into cargo area of your vehicle
One piece, fully assembled drive-on/drive-off platform
New, angled, low-profile platform
Specifications
Lifting Capacity: 350 lbs.
Platform Size: 27 x 41 in.
Operation - Manual or Power: Power
Installed Product Weight: 191 lbs.
Optional Battery Pack: 12 volt, On-Board
Optional charger: 110 volt
Motor: Sealed 12 volt DC
Warranty Information
For three (3) years from the date of purchase, Pride Mobility Products will repair or replace at their option, free of charge, any mechanical or electrical component found upon examination by an authorized representative of Pride to be defective in material and/or workmanship. This warranty does not extend to those items, which may require replacement due to normal wear and tear.
Labor, service calls, shipping, and other charges incurred for repair of the product, unless specifically authorized by Pride Mobility Products Corporation IN ADVANCE, are excluded.
An authorized Pride Mobility Products Provider must perform warranty service. Do not return faulty parts to Pride Mobility Products without prior written authorization. All transportation costs and shipping damage incurred while submitting parts for repair or replacement is the responsibility of the purchaser.