Harmar AL600 Hybrid Lift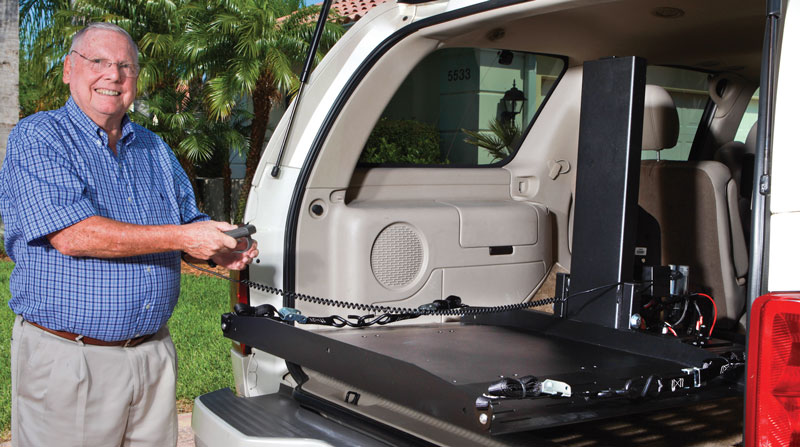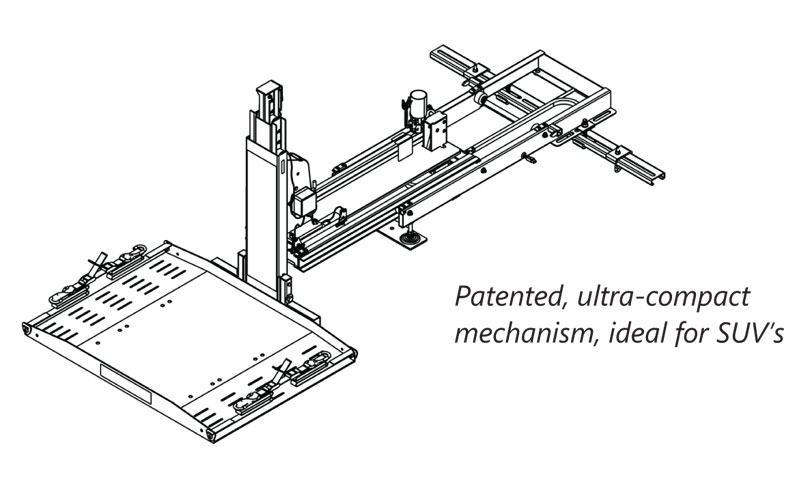 The Universal PowerChair Hybrid Platform Lift raises and secures power chairs and scooters into the back of your vehicle. The lift attaches to existing third row seating mounts in the back of most SUV's, vans, minivans and some crossovers.
The lift itself is stored in the back of the vehicle, and the remote hand control powers the lift outward, lowers it to the ground where you drive the power wheelchair on to the lift. It is then secured with one strap, and you use the remote control to lift the unit and bring it into the vehicle. Secures virtually any power chair. Generally requires NO bolting to the vehicle floor, unlike other lifts.
Features
Carries virtually all standard power chairs and scooters-- no mobility device modifications required
Most compact unit on the market-- requires just 43" of depth!
Allows continued use of second row seating; no drilling required in most vehicles
Manual crank backup
Weatherproof, remote hand control (wireless option available)
Ideal for most minivans, SUVs, and crossovers
Specifications
Lifting capacity: 350 lbs. (160 kgs)
Headroom required: 32"
Depth required: 43"
Platform height (dead space): 5½"
Vertical reach: 33½"
Adjustable platform size: 28.5W x 38"-50"L
Warranty
The Harmar Mobility warranty is the simplest in the industry, a 3-Year Fully Transferable Warranty. If the product changes hands, the remainder of the warranty transfers to the new owner. Other manufacturers offer a warranty only on the original owner's usage, but Harmar warrants the product itself.