Scooter Lifts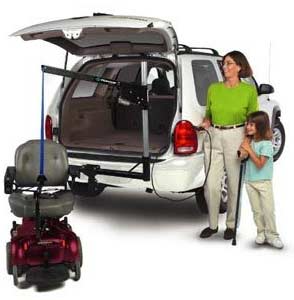 You may have reached this page by trying to access Scooterlifts.ca. Scooterlifts.ca is one of our subsidiary websites which we've merged into the MobilityBasics.ca site. All the content that was formally found on Scooterlifts.ca, plus more, is now found here.
I've presented a wide variety of scooter lifts for both interior and exterior applications for visitors who would like to carry their scooters on or in their vehicle but are unable to load them. In spite of the fact that most scooters will come apart for loading into vehicles the process of dis-assembly and re-assembly can be difficult if not impossible for most scooter users.
For those who aren't really sure what to look for or what they will need in a scooter lift You'll find a fairly comprehensive web page which discusses the aspects users should be aware to understand how scooter lifts work and what are the differences between the features and styles. You can access the Scooter Lifts Fact Sheet by clicking the fact sheet link at the in the menu to the left hand side each page.
As you visit the different scooter product pages listed ant the bottom of each page in the scooter lift section where you can get information about many different scooter lifts and carriers available.
If you have any questions please feel free to contact us by using our contact page. This is an informational website only and we do not sell any products. if you are interested in pricing or purchasing a scooter lift or carrier, you can get them from most wheelchair vendors or some of our advertisers.