Silver Star Full Platform Scooter Lift/Carrier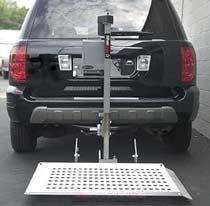 The Silver Star Full Platform Exterior Lift from Pride lets you take your scooter or power chair on the road safely and reliably. An all-steel frame and protective coating mean Silver Star Lifts are built to be durable, while quality construction means you can count on your lift to be dependable. From loading to lifting, Silver Star lifts are designed with ease of use in mind.
Silver Star Lifts from Pride Mobility are now "New & Improved." New great features include shock absorbing technology that reduces vibrations to your power wheelchair, product re-design that reduces metal-to-metal contact for enhanced performance and longer product life and a helpful self-leveling feature that makes loading and unloading your wheelchair on unlevel terrain a whole lot easier.
Features & Specifications
Great choice for scooters or power wheelchairs.
Maximum Scooter/Wheelchair Width - 27"
Maximum Scooter/Wheelchair - 36"
Maximum Travel Distance from Ground - 20"
Motor - Sealed 12V DC
Hitch Class - 2 or 3 (190 lb capacity for Class 2)
Additional Information
Optional Battery Pack: 12 volt, On-Board
Optional charger: 110 volt
Motor: Sealed 12 volt DC
Warranty Information
For three (3) years from the date of purchase, Pride Mobility Products will repair or replace at their option, free of charge, any mechanical or electrical component found upon examination by an authorized representative of Pride to be defective in material and/or workmanship. This warranty does not extend to those items, which may require replacement due to normal wear and tear.
Labor, service calls, shipping, and other charges incurred for repair of the product, unless specifically authorized by Pride Mobility Products Corporation IN ADVANCE, are excluded.
An authorized Pride Mobility Products Provider must perform warranty service. Do not return faulty parts to Pride Mobility Products without prior written authorization. All transportation costs and shipping damage incurred while submitting parts for repair or replacement is the responsibility of the purchaser.