Harmar AL300 Fusion Platform Lift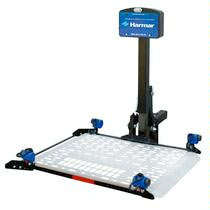 The AL300 from Harmar Mobility is a fully powered lift that rises and lowers with the flip of a switch. This versatile lift will work with both powerchairs and scooters.
It features a large aluminum deck, and self-tensioning retractors. The self-tensioning retractors attach to your powerchair or scooter with no need for modifications or drilling. This makes it easy to secure your mobility device for transport.
The options swing away mount allows easy access to the cargo area of a van or the trunk of a car.
Features
Compatible with class II or class III hitch
Large aluminum deck
Carries virtually all scooters AND power chairs
4 - Self-tensioning Q'Straint retractors
No scooter or power chair modifications
Manual crank backup and license plate mount included
Swing-Away option available
Specifications
Standard Lifting Capacity 350 lbs (160 kgs)
Heavy Duty Lifting Capacity 4000 lbs (181 kgs)
Aluminum Deck Size: 27½" x 39" expandable up to 46"
Maximum Scooter Width 27"
Max Scooter Wheelbase 42"
Installed Weight 80 lb
Hitch Weight 5" - 18"
Hitch Class II or III
Warranty
The Harmar Mobility warranty is the simplest in the industry, a 3-Year Fully Transferable Warranty. If the product changes hands, the remainder of the warranty transfers to the new owner. Other manufacturers offer a warranty only on the original owner's usage, but Harmar warrants the product itself.