Harmar AL001 Scooter Carrier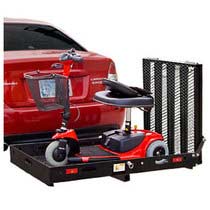 Harmar's universal outside carrier is a simple, cost-effective, fully manual outside carrier. Its simple design makes it compatible with most scooters and power chairs. The folding ramp makes loading your product on and off the carrier a simple process. Being fully manual, it is perfect for individuals who have some mobility or who are accompanied by a caregiver.
Features
Suitable for use with Class II or III hitch
Full manual carrier for scooters or power wheelchairs
Folds up when not in use.
Platform size 28" x 48"
Specifications
Model number: AL001
Capacity: 500 lbs
Weight: 88 lbs
Powered Lift: No
Manual Fold: Yes
Maximum Hitch Height: 24"
Hitch Class: II or III
Swing Away Available: No
Platform Length: 48"
Platform Width: 28"
*For vehicles 5 years and older upgraded suspension is recommended