Wheelchair Carrier Lift 'n' Go Platform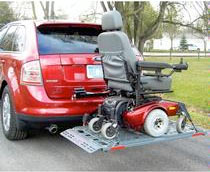 The WheelChair Carrier Model 210 Lift 'n' Go electric powered carrier is designed for most of the scooters and power chairs on the market. It features a 350 lb. weight capacity and large lifting platform. The simple pushbutton operation which lowers and stows the platform makes this carrier easy to use.
Features
Best value for a full sized power lift.
Works with 95% of scooters and power wheelchairs available today.
Available for Class 2, 3, 4 or 5 receiver hitches.
Built in angle on platform to allow for a smoother ride while transporting your mobility unit.
No Chair Modification needed.
Specifications
Weight Capacity: 350 lbs.
Product Weight: 104 lbs.
Platform Depth: 28"
Platform Width: 48"
Power: 30 amp fuse is included in-line of the power wire
Adjustable Hitch Height: Yes
Hitch Height Range: 7" to 19"
Available Hitch Class: Class 2, 3, 4 or 5
Warranty - Frame, Hardware: 3-Year Transferable
Warranty - Electrical Components: 1-Year