Harmar's AL030 Power Tote Wheelchair Carrier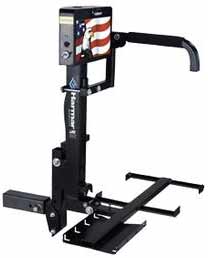 The AL030 Power Tote makes it quick and easy to transport your manual folding wheelchair. This lightweight lift features a 100 pound lifting capacity and will mount on a standard Class I, II or III hitch.
The AL030, like the AL003 is equipped with an adjustable hold-down arm and can fold when not in use.
The optional swing away mount allows easy access to the trunk of a car or the rear doors of a van.
Features
Carries manual wheelchairs
One-switch operation
Unique, adjustable hold down arm
No wheelchair modifications necessary
Folds up when not in use
Swing-Away option available
Specifications:
Lifting Capacity: 100 lbs (45 kgs)
Installed Weight: 49 lbs (22.3 kgs)
Hitch Height: 5"-18"
Hitch Class: I, II or III
Warranty: 3 Year Transferable
Warranty
The Harmar Mobility warranty is the simplest in the industry, a 3-Year Fully Transferable Warranty. If the product changes hands, the remainder of the warranty transfers to the new owner. Other manufacturers offer a warranty only on the original owner's usage, but Harmar warrants the product itself.