Pride Silver Star Quad XL Scooter Lift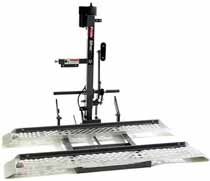 The Silver Star Quad XL Scooter Lift by Pride is sturdy and easy to use, letting you get your scooter loaded safely, reliably and quickly.
An all-steel frame and protective coating mean all Silver Star Lifts are built to be durable, while quality construction means you can depend on your lift for the long haul.
Silver Star Lifts from Pride Mobility are now "New & Improved." New great features include shock absorbing technology that reduces vibrations to your scooter, product re-design that reduces metal-to-metal contact for enhanced performance and longer product life and a helpful self-leveling feature that makes loading and unloading your scooter on unlevel terrain a whole lot easier.
Maximum Product Width - 27"
Maximum Travel Distance from Ground - 20"
Motor - Sealed 12V DC
Required Hitch Class - 2 or 3 (190 lb capacity for Class 2)
Features
Perfect for larger 4-wheel Scooters.
No need to hardwire. Optional rechargeable battery pack available.
Professional installation requires purchase of battery pack.
Specifications
Model number: 01-XL
Base weight lift: 112 lbs.
Maximum scooter weight: 325 lbs.
Maximum product width: 27"
Maximum travel distance from ground: 20"
Motor: Sealed 12 volt DC
Optional battery pack: 12 volt, on-board
Optional charger: 100 volt
Hitch class: Class 2 or 3
Warranty
For three (3) years from the date of purchase, Pride Mobility Products will repair or replace at their option, free of charge, any mechanical or electrical component found upon examination by an authorized represantative of Pride to be defective in material and/or workmanship.