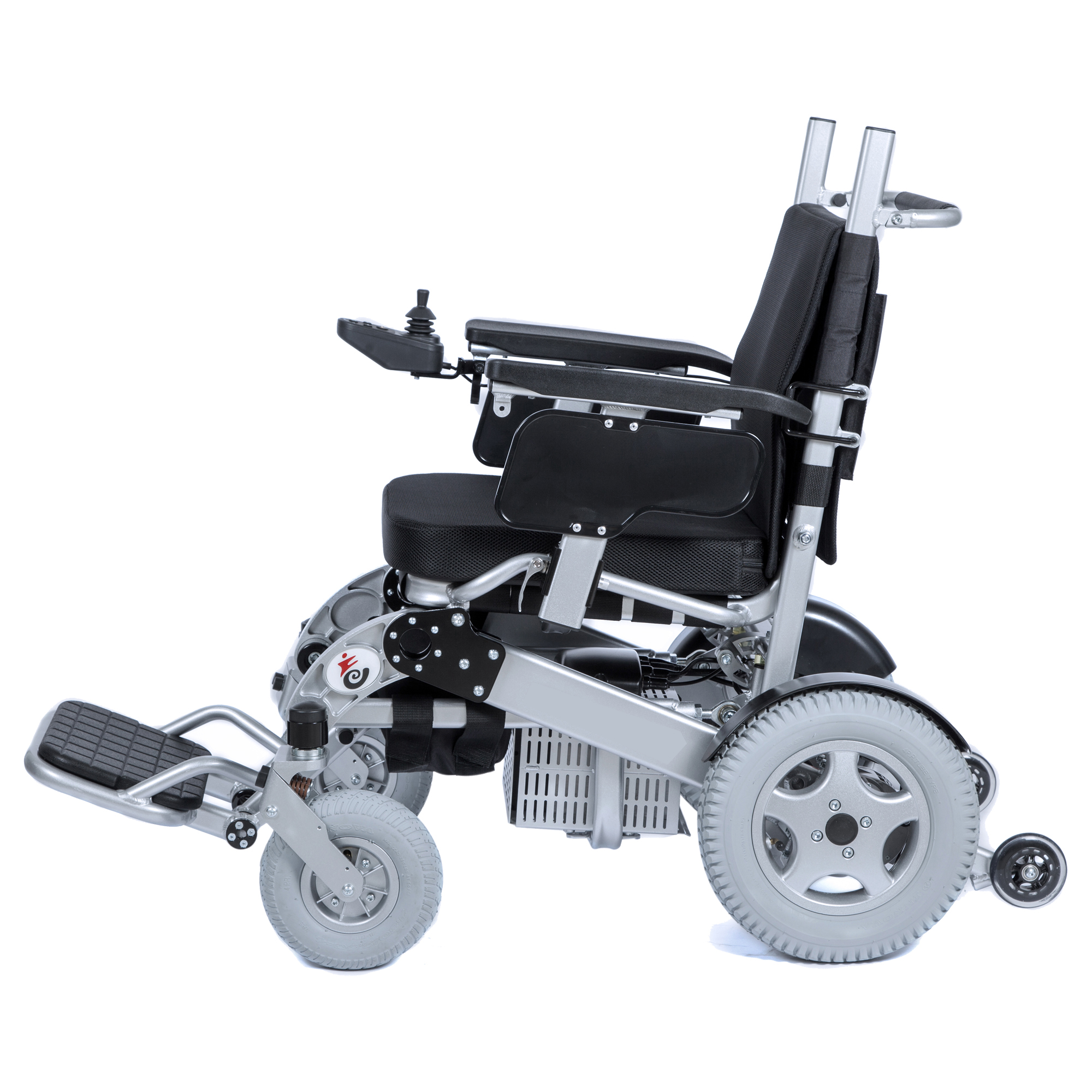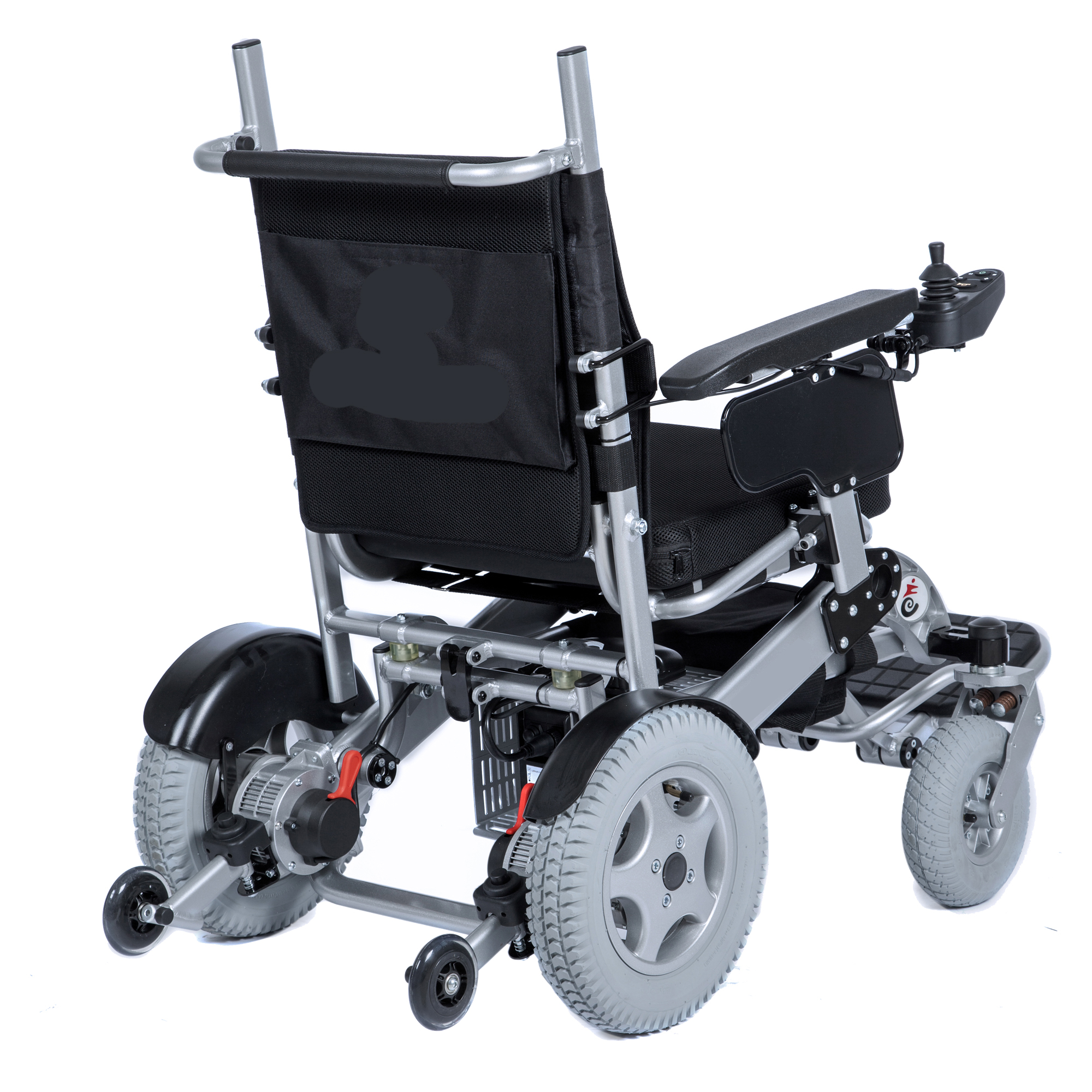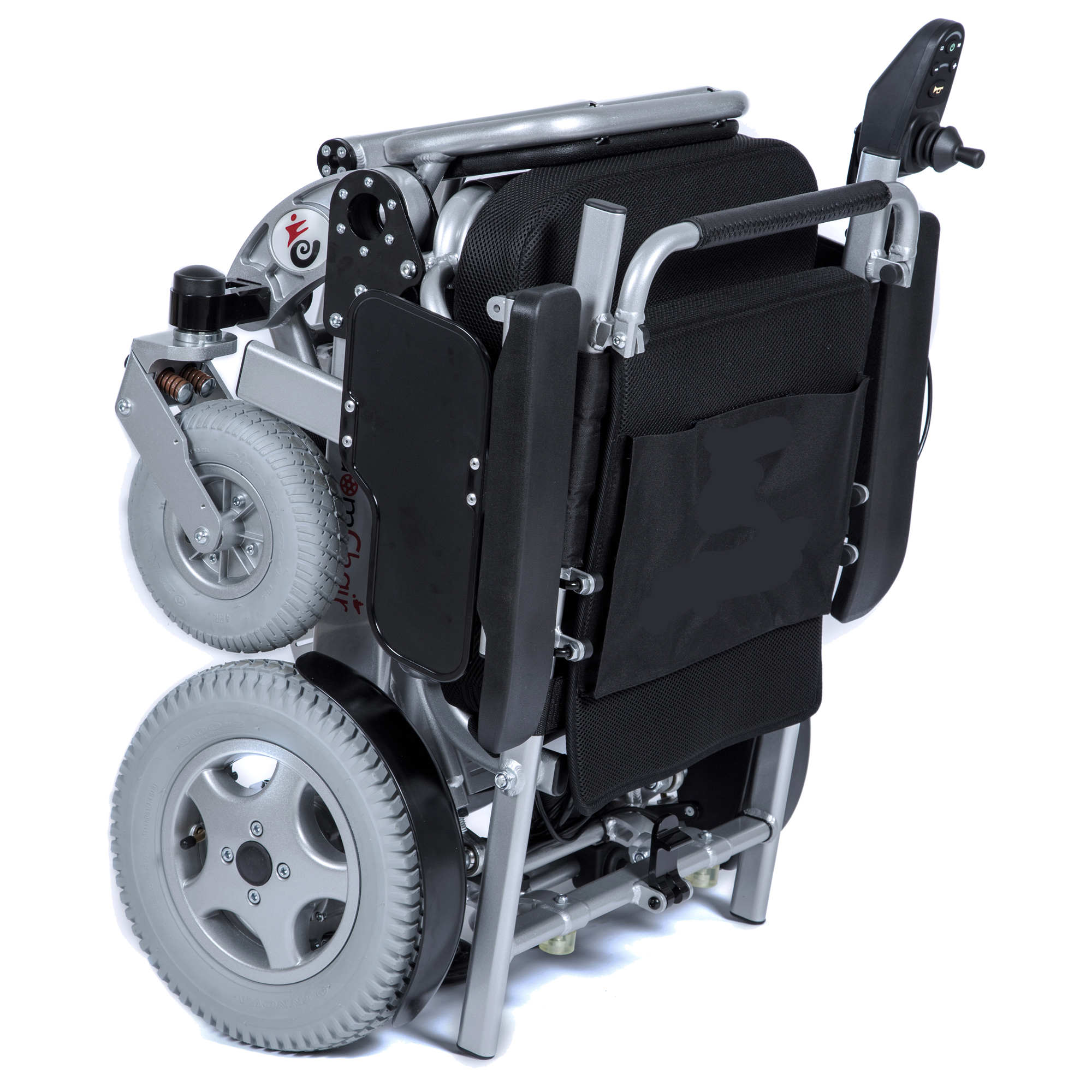 EZee Fold Heavy Duty
Portable Electric Wheelchair
EZee Fold G4 Heavy Duty Portable Electric Wheelchair
Model: CH4075
The EZee Fold Heavy Duty Folding Electric Wheelchair is a high weight capacity portable electric folding wheelchair with a large 20" x 20" seat that is designed to fit larger than average adults. Its high 500 pound capacity and 20" x 20" seat size make it the largest and highest capacity folding electric wheelchair on the market that I know of.
These wheelchairs provide many of the same features as the other EZee Fold wheelchairs making them an excellent choice for those needing a mobility device that can easily fold for transport, provide independent mobility and be used both indoors and outdoors, home and away.
The EZee Fold G4 is supplied with 1 battery but 1 or 2 additional batteries can be added to increase range and power if needed.
As with any powered mobility device the range will be affected by user weight, terrain traveled, condition of batteries and ambient temperature.
Features
500 lb Capacity
20 KM Range
8 KPH Maximum Speed
Folds and opens in seconds
Strong and lightweight frame made of high grade aircraft aluminum alloy
Folds Compactly for easy transport and storage
Flip up armrest for easier sliding transfers and to make tables more accessible
Folding footrest for easier transfers
Detachable seat cushion and washable seat cushion cover
Up to three Li-ion batteries
1 Battery Included (Additional Batteries Optional)
2 Batteries Doubles Range; 3 Batteries Triples Range
Right or Left Hand Drive
Powered or Manual Modes
Fold-in Anti-Tippers
Specifications
Length: 128 cm (50.4")
Width: 65.6 cm (25.8")
Height: 102.9 cm ( 40.5")
Folded Width: 44.8 cm (17.6")
Seat Width: 50.8 cm (20")
Seat Depth: 50.8 cm (20")
Seat Height: 54 cm (21.3")
Back Height: 45.7 cm (18")
Armrest Height: Adjustable
Chair Weight: 38.2 kg (84 lb) w/battery
Weight Capacity: 227 kg (500 lb)
Caster Size: 20 cm (8")
Wheel Size: 30 cm (12")
Controller: 50 amp,brush-less motor controller
Battery: 24 V, 20 Ah (3.2 kg/7 lb)
Charger Output: 5 Amps
Maximum Speed: 8 kph (5 mph)
Min.Turning Radius: 99 cm (39")
Maximum Cruising Range: 20 km (12.5 miles)
Warranty Information
| Part Name | Warranty Length |
| --- | --- |
| Frame | 5 Years |
| Motor | 2 Years |
| Battery | 1 Year |
| Joystick | 1 Year |
| Other items | 1 Year |
| Wear Items | Excluded |
Any alterations, misuse, abuse, or accidental damage voids this warranty. EZee Life™ reserves the right to replace or repair any part that has become defective.
The warranty does not extend to consequential costs resulting from the fault or defect of the product: freight and travel costs, loss of earnings, or other expenses that one may incur.
Warranty is valid for the original purchaser only and the original receipt must be presented before any warranty options are considered. Please also be prepared to provide the date of purchase and serial number.
Canadian Distributor/Manufacturer's Rep.
HPU Medical Wholesale
34 Futurity Gate, Unit 15
Vaughan, ON L4K 1S6
Phone: 1-888-634-5808
Phone: 416-739-1267
Fax: 416-739-7171

For more information please visit www.hpurehab.com or email info@hpumw.com