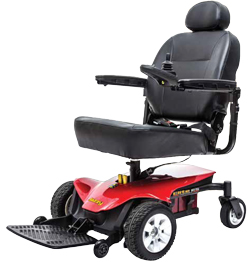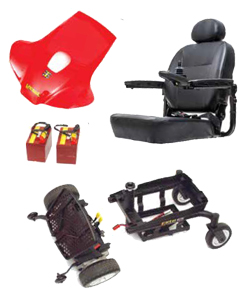 Jazzy Elite ES Portable Power Wheelchair
Jazzy® Elite ES Portable Power Wheelchair
The Elite ES power wheelchair from Pride Mobility is a front wheel drive power wheelchair is designed to be a portable power chair. While it doesn't fold up like some of the other portable power chairs I've presented on the site, it can be disassembled for easy loading into vehicles.
This small power wheelchair can be disassembled into 4 wheelchair parts (front frame, rear frame, shroud & seat) and 2 batteries with the heaviest piece weighing 47.6 lbs.
Because of the front wheel drive design, the Elite ES this power wheelchair will provide a much smaller turning radius than conventional rear wheel drive chairs making it much more maneuverable indoors or in crowded areas.
The three sets of wheels have flat free solid rubber tires to provide years of maintenance free service.
Features
Easy dis-assembly for convenient transport
In-line, front-wheel drive technology
40 amp, PG GC 3 controller
Simple main frame design for easy serviceability
Optional Equipment Available
High-back seat with solid seat pan
Depth-adjustable, limited recline high-back
Cup holder
Weather cover
Rear basket
Oxygen tank holder
Cane/crutch holder
Walker holder
Jazzy® Elite ES Power Chair Specifications

Device Weight: (with battery)
161 lbs (73.2 kgs)
Max Capacity:
300 lbs (136 kgs)
Front Frame Weight:
47.6 lbs
Rear Frame Weight:
21 lbs
Seat Weight:
43 lbs
Battery Weight: (both)
21 lbs
Seat Dimensions:
(W x L)
18" or 20" Width x 18" to 20" Depth
Turning Radius:
25.5 in.
Maximum Speed:
4 miles per hour
Distance on Full Battery*:
11 Miles
Ground Clearance:
1.5 inches
Front Wheels: (Anti-tippers)
3 in.
Rear Wheels: (Casters)
6 in.
Drive Wheels:
9 in.
Incline Capability:
6° (10.5%) slope
Drive Train:
Two motor, front-wheel drive
Wheel Material:
Solid
Battery:
U-1 (2 required)
Charger:
Off-board, 3 amp
Brake Type:
Intelligent braking (electronic, regenerative disc brakes)
Warranty Information
5-year limited warranty on frame;
13-month limited warranty on electronics;
2-year limited warranty on drive motors
Manufacturer / Distributor
Pride Mobility Products Company
5096 South Service Road
Beamsville, ON L0R 1B3
Telephone: 888-570-1113
For more information about the Pride Products please visit: http://www.pridemobility.com/