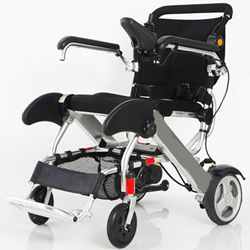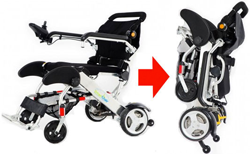 KD Smart Chair Portable Wheelchairs
The the KD Smart Chair is available in two different models that are designed to be lightweight and easily fold-able for loading into vehicles and storing away when not needed.
Both KD Smart Chair models were developed and created with the user in mind and made out of durable lightweight aluminum alloy. These power wheelchairs help users regain their mobility and independence. Both models offer a variety of similar features with the main difference being the weight capacity.
The Heavy Duty model is capable of providing a comfortable fit for users that weigh up to 396 pounds (180 kgs) while the Standard model easily supports 265 (120 kgs) pounds.
The company is proud to offer customers a choice between the two models and is so confident that it will make a positive impact in the user's life that they offer a 60 day money back guarantee.
Features
Weighs only 50 lbs (59 lbs HD) and supports passengers weight of up to 265 lbs (396 lbs HD)
Folds in seconds for easy storage in your car, SUV or closet
Lithium Ion battery can travel up to 15 miles
More compact in size than traditional wheelchairs and fits virtually anywhere
Removable seat and seat cover
Highly efficient dual brush-less motors
Joystick can be mounted on left or right side arm rest
Our powered wheelchair costs less than any of its competitors
Requires almost no maintenance and can be easily serviced
More stable and durable than 3 wheel scooters
Specifications
Standard Model

Heavy Duty Model

Device Weight:
(with battery)
50 lbs (23 kgs)
59 lbs (27 kgs)
Max Capacity:
265 lbs (120 kgs)
396 lbs (180 kgs)
Unfolded Dimensions:
(L x W x H)
38.2 in. x 23.2 in. x 33.1 in.
39.5 in. x 27.5 in. x 35.8 in.
Folded Dimensions:
(L x W x H)
13 in. x 23.2 in. x 29.5 in.
14 in. x 27.5 in. x 29.5 in.
Seat Dimensions:
(L x W)
16.75 in. x 15.25 in.
17.25 in. x 17.25 in.
Seat Height:
(from ground)
19 in.
21 in.
Turning Radius:
31.5 in.
35.4 in.
Maximum Speed:
5 miles per hour
6 miles per hour
Distance on Full Battery*:
15 Miles
15 Miles
Ground Clearance:
3.1 inches
3.1 inches
Front Wheels:
(Diameter x Width)
8 in. x 1.5 in.
8 in. x 1.5 in.
Rear Wheels:
(Diameter x Width)
8 in. x 2 in.
8 in. x 2 in.
Incline Capability:
12 degree slope
12 degree slope
Motor Type:
Brush-less DC Motor, 180 W Power Rating, 24 V DC Input Voltage
Brush-less DC Motor, 180 W Power Rating, 24 V DC Input Voltage
Wheel Material:
Solid with a mix of Polyurethane & Rubber
Solid with a mix of Polyurethane & Rubber
Battery:
Lithium Ion 10 Ah (Ampere-Hour), 24 V DC
Lithium ion 16ah (Ampere-Hour), 24 V DC
Charger:
Input: AC 100V-240V~1.8A Max 47Hz-63Hz, Output: DC 29.2V - 2A
Input: AC 100V-240V~1.8A Max 47Hz-63Hz, Output: DC 29.2V - 2A
Brake Type:
Electromagnetic Braking System
Electromagnetic Braking System
Warranty Information
5 year warranty on the frame
1 year warranty on the battery and other electronic components
Distributor
E-mail: info@KDSmartChair.com
Call Toll Free: 1-877-827-6278
Monday - Friday, 9 AM - 5 PM Pacific Time
Address:
Smart Chair
20314 NE 16th Place
Miami, FL 33179
For more information about the KD Smart Chair please visit: KD Smart Chair