New Products: - The products in the "New Products" section of our web site are presented for informational purposes and while we believe them to be helpful and of good quality it is up to the purchasers to determine the suitability and value when purchasing.
Added: Oct 6, 2019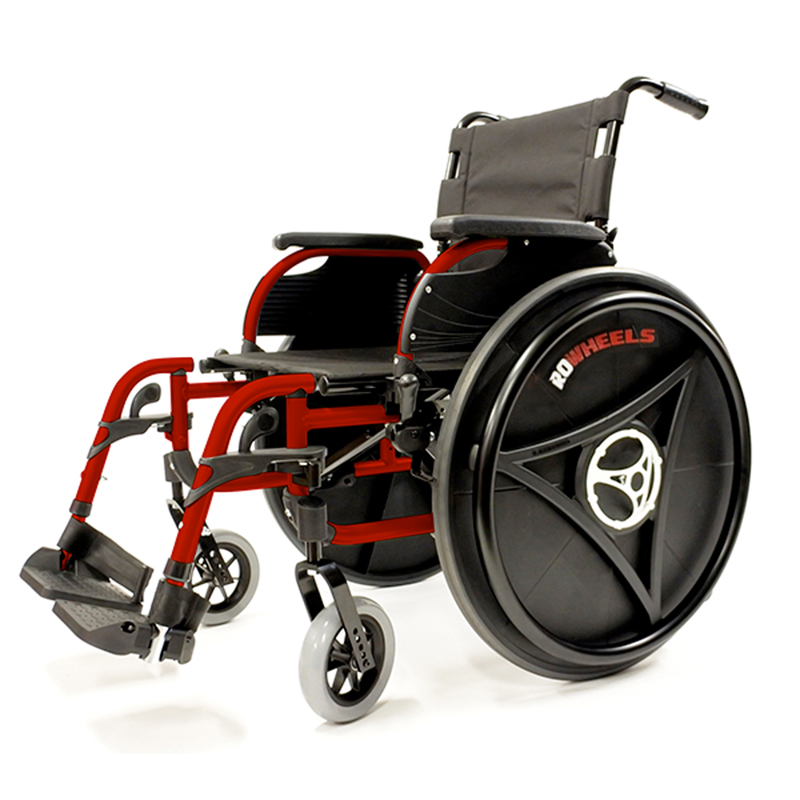 Rowheels Revolution 1.0 Wheelchair
Rowheels Revolution 1.0 Wheelchair
What is the Revolution1.0?
The Revolution 1.0 is basically a lightweight manual wheelchair that comes in the most popular sizes, three colours and has many of the features found in other wheelchairs of its class. What is revolutionary about it is that, as far as I know, the only wheelchair you can buy that comes standard with Rowheels' wheels.
The wheels the chair is equipped with are the REV-3 24" Rowheels. Rowheels has 4 different wheel options available as replacement wheels but only the REV-3 are available on their wheelchair as I write this.
What are Rowheels?
Rowheels has been manufacturing replacement wheels for wheelchairs since 2015 that are unique in that the user pulls backwards on the handrims to move forward much like propelling a rowboat. There is a reason you pull the oars to move a rowboat. You have more power, more stamina, more control and are less prone to injury than if you were trying to push forward on the oars. Much of this applies to pulling rather than pushing wheelchair wheels also.
Why are they?
Many experienced wheelchair users will back over rough terrain or up slopes because it's easier to propel a manual wheelchair backwards than forward. One of the reasons for this is leading with the larger rear wheels allows the wheelchair to roll easier than leading with the front casters.
The other reason is that the human body is better designed to pull than to push.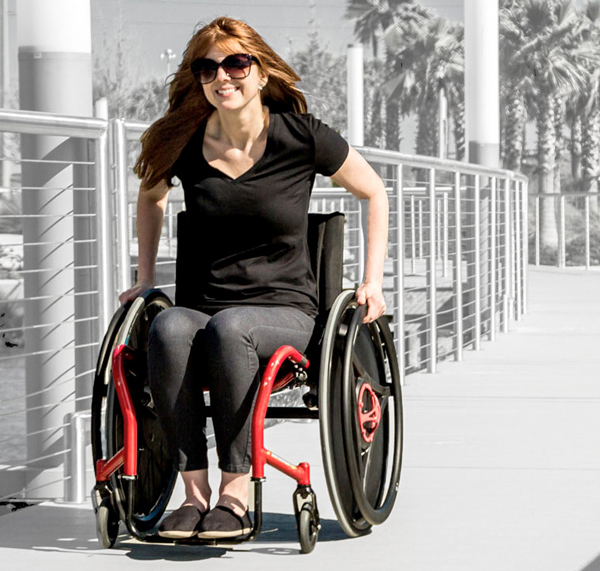 Rowheels Wheelchair Wheels
Pulling bio-mechanics distribute propulsion forces amongst several capable shoulder and upper back muscles, reducing strain on individual muscles including those overused during push wheeling.
Pulling is better for your shoulders; a large number of manual wheelchair users experience shoulder damage eventually due to pushing their wheelchair and studies done for Rowheels indicate that pulling on the hand rim instead of pushing will help prevent shoulder injury and actually strengthen the shoulders.
People using Rowheels have a larger range of motion than those using conventional wheels. When propelling with normal wheels the user grasps the hand rims at about twelve o'clock and pushes through to about 9 o'clock. With Rowheels the user grasps the hand rims at about 9 o'clock and pulls back through 12 o'clock to 2 or 3 o'clock.
Pulling bio-mechanics reduce the large compressive impact forces present at the beginning of every pushing stroke. These forces are known to contribute to the occurrence of Carpal Tunnel Syndrome.
Revolution 1.0 Specifications
Frame Colours: Blue, Black, Red
Hub Colours: Red, Black
Seat Width: 16", 18", 20"
Seat Depth: 16″
Seat fabric: Medical grade nylon
Armrest Height: 8″
Seat Height: 19″
Seat Back Height: 17″
Overall Height: 28″
Overall Open Width: 25″, 27″ and 29″
Folded Width: 13.5″
Overall Length: 40″
Weight: 40 Lbs (without footrests)
Weight Capacity: 300 Lbs
Shipping Dimensions: 30" x 15" x 30"
Armrest Type: Flip up / removable
Rear Wheel Size: 24
Footrests Type: Swing Away, Removable with flip up foot plate and ankle strap.
Five Hand rim Choices:

Aluminum
Out-Front Natural Fit
Out-Front Surge
Out-Front surge LT
Rib Grips (Blue or Black)

Three Cushion Options:

None (use your own cushion)
Foam Cushion
Premium Gel Cushion
Features
Rowing action with Reduction Gear – Pull to move, reduction gearing and unique hand rim profile
Lightweight
No Assembly Necessary
Foldable, adjustable, portable
Swing away footrests, flip back armrests, breathable nylon
Clinical Studies
Rowheels have several studies that support their assertions and the premise of their wheels. The studies are available here: www.rowheels.com/research-studies/
Promotional Video
Manufacturer
ROWHEELS, INC
2895 Commerce Park Dr.,
Fitchburg, WI,
53719

Phone: (608) 268-9670
Website: http://rowheels.com
Email: info@rowheels.com

For more information please visit http://rowheels.com