New Products: - The products in the "New Products" section of our web site are presented for informational purposes and while we believe them to be helpful and of good quality it is up to the purchasers to determine the suitability and value when purchasing.
Added: April 13, 2012
Transport Chair Configuration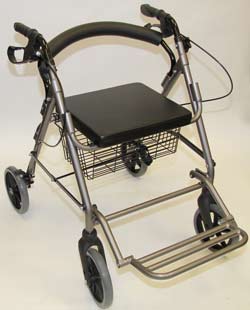 EZee Life™ Transporter Combination
Rollator & Transport Chair
Rollator Configuration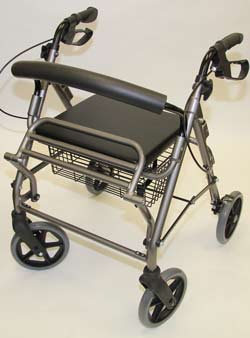 EZee Life™ Transporter Combination
Rollator & Transport Chair

EZee Life™ Transporter Combination Rollator Walker & Transport Chair
EZee Life™ is a line of home health care products distributed by HPU Rehab in Toronto, Ontario. The EZee Life™ products are primarily bathroom safety products and mobility products and have recently added a line of rollators to their line.
One of their new rollators is known as the Transporter (CH3040) rollator and is an advancement on other rollator designs in that it can quickly and easily be converted into a transport chair so the user can safely be pushed around by their caregvier if they are too tired to continue walking with it set up as a rollator.
Features
Easily Manoeuvrable
Padded Flip Up Seat
Padded Reversible Backrest Bar
Wire Basket
Lightweight Frame with Liquid-coating
Easily folds for Storage and Transport
Easy Squeeze Locking Hand Brake System
PVC Padded Seat
Detachable Backrest
Fold-away Footrest
8" High Quality Flat-proof Solid Castors
Colours: Burgundy or Titanium
Economically Priced
Specifications
Handle Height Range: 31" to 34½"
Seat Width: 14"
Seat Depth: 12¾""
Width Between Handles: 20½"
Overall Width: 22"
Seat Height: 21"
Basket Size: 8" x 15¾" x 6"
Weight Capacity: 250 lbs.
Wheel Size: 8"
Brakes: Hand Loops
Description
The CH3040 rollator is an economically priced aluminum folding walker that is primarily both for indoor and outdoor use that can easily and quickly converted into a lightweight transport chair that a caregiver can use to transport the user with if they become fatigued.
While using a conventional rollator to carry the user on is not recommended and can cause the walker to tip over the EZee Life™ CH3040 rollator is designed to provide this option. By flipping down the footrest and removing the padded backrest bar and inserting it to the opposite side of this rollator walker, the CH3040 becomes a wheeled transport chair with a footrest, backrest bar and seat. The user sits on the rollator seat facing forward when used as a transport chair and sits on the eat facing backward when simply used as a seat to rest on in the normal rollator configuration.
This lightweight rollator features a flip up PVC padded seat, basket, hand brakes, 8" front swivel wheels and has a weight capacity of 250 lbs. The overall width of 22" will allow this walker to be easily manoeuvrable even in the tightest places.
The handle height is easily adjustable without the need of tools from a lowest height of 31" to a maximum handle height of 34¾". This height should be suitable for user between 5' 4" to 6' in height.
Distributor Contact Information
HPU Rehab
34 Futurity Gate, Unit 15
Concord, ON L4K 1S6
Phone: 1-888-634-5808
Phone: 416-739-1267
Fax: 416-739-7171

For more information please visit www.hpurehab.com or email info@hpurehab.com