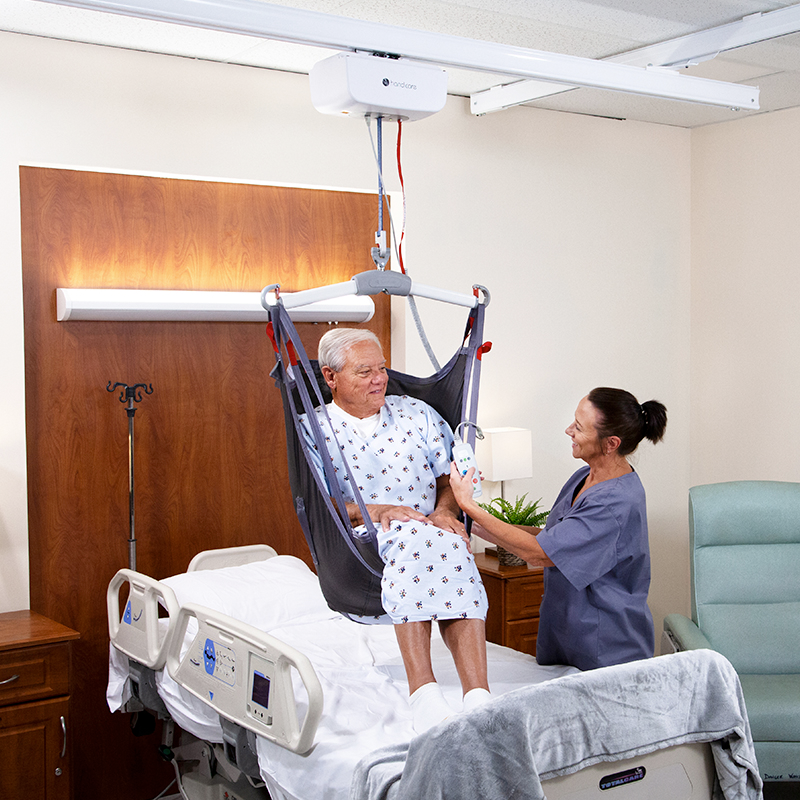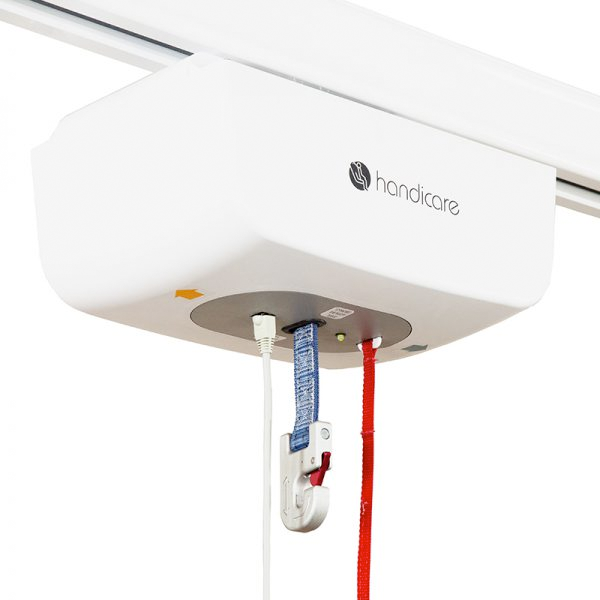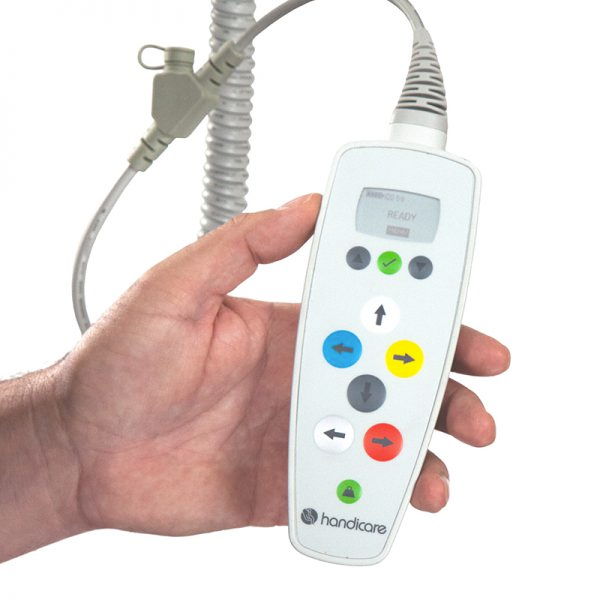 Handicare A Series Fixed Ceiling Lifts
The A-Series fixed ceiling lifts are an interesting concept. They are two lifts with different weight capacities that are designed to be adaptable to existing ceiling track systems from all the major ceiling lift manufacturers. So, if your lift wears out, or otherwise can't be used any longer you do not have to buy another lift made by the same manufacturer. In the past, if you wanted to replace a fixed ceiling lift you would have to replace the track as well if you changed brands so having a universal system that can run on most available tracks is a bonus.
The Handicare A-Series control puts all control functions and diagnostic information in your hand. With an ergonomic, waterproof design (rated IPx6/ IPx7), the A-Series hand controller fully operates all lift functions from an easy to use digital control pad. More than just operating the lift, the A-Series hand controller helps you gather and record weight information for a patient while simultaneously collecting data on the lift's use and performance.
Both the A-450 and A-625 A-series lifts are compatible with all the conventional track layouts including Manual Traverse, Manual Traverse w/ Load Cell and Wi-Fi, Power Traverse w/ RTC and Power Traverse w/ RTC, Load Cell and Wi-Fi.
Product Highlights
Unique antimicrobial strap provides reduced infection risks, enhanced durability and a visual indicator for replacement when needed
Ergonomically designed hand control with waterproof technology features a back-lit LCD screen with control and diagnostic information at your fingertips
15° degree tilt saves time and frustration during a transfer, maneuvering the lift over the patient has never been easier
Available with Bull Horn or Spring Latch Connectors in multiple sizes
Handicares Quick Release System (QRS) makes it easy to swap carry bars quickly and easily for different patients
Easy to maintain and serviceable right on the track
Emergency safeguard features include: auto shut-off with audible low battery indicator, emergency stop and power lowering
Available with manual or power traversing and constant charge and return to charge options
Technical Specifications
Charger output: 24V DC, 1.33amp
Batteries: 24V DC (2 x 12V DC), 5Ah
Lift case: Flame-retardant ABS
Hand control: Digital IPx6 and IPx7 Rating
Lifting range: Up to 96 in (2438 mm)
Unit weight: 9.5 to 10.6 kg.
Safe Working Load:

A-450 - 450 lb (204 kg)
A-625 - 625 lb (284 kg)

Duty Cycle: 1 Min "On" - 9 Mins "Off"
Service Life: 10 years or 22,500 Cycles
Downloads
Handicare A-Series Ceiling Lift Brochure Download
For more information on this and other Handicare products
please visit their web site at: www.handicare.ca or contact them at 877.304.5438.