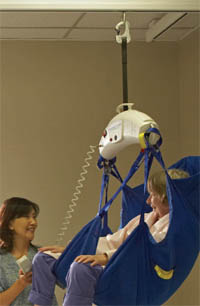 Waverley Glen P425 Ceiling Track Lift
Unique and innovative, the stylish Waverley Glen P-425 stretches the boundaries of portable ceiling lifts. Ceiling lifts dramatically reduce injuries resulting from the handling of patients/residents in both institutional and homecare settings.
The P-425 has been designed with a full set of standard features and can be operated safely by a single caregiver. It is light in weight, easy to hold and capable of lifting up to 425 lbs (193 kgs).
The P-425 solves many of the problems that make patient transfer complex or difficult. It's lightweight, portable, and designed to provide complete control for the caregiver. In addition, it offers a wide range of safety mechanisms to assure confidence throughout handling occasions.
Product Highlights
Lightweight and portable
Integral full-width carry bar with unique contoured shape
On-board controls allow the caregiver to operate the system. An optional hand control is also available
The P-425 is charged with a standard plug and socket.
During heavy usage, an optional battery pack can quickly be exchanged, thereby offering maximum flexibility
Safety mechanisms include an over-speed governor, built-in safety limits, slack strap sensor and emergency lowering
The unique curved shape of the P-425 achieves maximum patient comfort by allowing the shoulders to remain in a natural, anatomically correct lower seated position
Patient safety is assured with positive locking latches, securing the sling each and every time
The P-425 offers a comfortable built-in ergonomic handle, allowing the caregiver to carry and transport with ease
Technical Specifications
Charger Output: 24 VDC, 1.5 Amps
Batteries: 24 VDC (2 x 12 VDC), 2.0 AH
Lift Case: Flame Retardant ABS
Hand Control: Pneumatic (Optional Infra Red)
Lifting Range: Up to 77" (195.6 cm)
Unit Weight: 14.5 lbs (6.5 kgs)
Maximum Load: 425 lbs (193 kgs)
For more information on this and other Waverley Glen products please visit their web site at: www.waverleyglen.com