Waverley Glen Sequoia Portable Track Lift Frame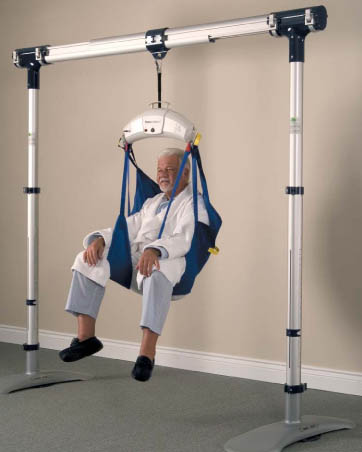 The Waverley Glen Sequoia is a complete portable track system designed for applications where the permanent installation of a ceiling track is either not possible or undesireable. These portable track systms are ideal for situations where the need is short term or for institutions where the installation of permanent ceiling tracks is prohibitively expensive or the expected need is only occasional and in various locations.
While providing an excellent solution to many situations where a ceiling tack lift system is needed but permanent track installation is not wanted or needed, there are a few drawbacks. The Sequoia free standing frame will work fine for people who need to be transferred to and from a bed, wheelchair, commode etc. but, where permanent installations are also great for toilets, shower stalls and bath tubs there are very few bathrooms large enough or designed for the use of a free standing frame.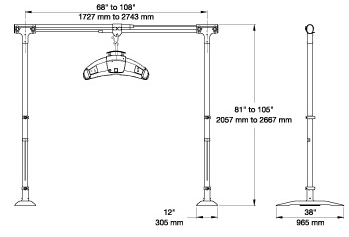 The Sequoia portable free standing ceiling track system is adjustable in height from 81" to 105" and adjusable in track lenght from 68" to 108". Thsi adjustability allows for greater flexibility when setting the unit up where floor may not be level or where space for the frame is limited.
The end poles and track are manufactured with extruded aluminum for a combination of stength and lightness. the frame weighs approximately 90 pounds and has a carrying capacity of 400 pounds. This product carries a two year warranty but Waverley Glen products are known for their quality and durability and the Sequoia frame system should last many years under normal use.
For more information on this and other Waverley Glen products please visit their web site at: www.waverleyglen.com