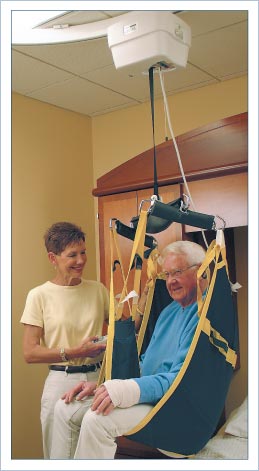 Medcare Ceiling Track Lift
Available lift capacity of 425 lbs or 600 lbs.
Features
Track mounted: always there for you
Manual or power traversing
Whisper quiet operation
8 foot vertical reach
Over-speed safety governor
Emergency lowering system
Built-in Safety stops
Pneumatic, non-electric hand control
Scale option
Automatic battery conservation
Soft start/stop for comfort
Heavy duty batteries for more lifts
Efficient battery charge cycle
Visual/audible low battery indicator
CSA/UL certified
2 year warranty
Highlights
91" lifting range allows lifting from the floor and over high thresholds.
Easy-to-use and lightweight pneumatic hand control works in moist and humid environments. The airline can be easily modified to suit users' needs.
The slack strap sensor ensures the lift strap will not continue to unwind in the event that the client is not placed securely on the transfer surface.This ensures client safety, and enhances employee confidence.
Optional effortless manual raising and lowering in the absence of power.
4-point, non-rigid hanger bar design allows sling to conform to patient for added comfort.
Product Specifications
Lift Motor - 24 VDC (all Models)
Traverse Motor - 24 VDC (Optional at time of purchase)
XY Traverse Motors - 24 VDC (Optional at time of purchase)
Transcord System - (Optional at time of purchase)
Charger Input - 120 VAC, 1.0 Amps
Charger Output - 24 VDC, 1.5 Amps
Batteries - 24 VDC (2x12 VDC), 7.0 AH
For more information on this and other Medcare products please visit their web site at: www.medcarelifts.com