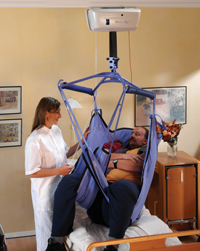 Arjo Maxi Sky 1000 Bariatric Ceiling Track Lift
A sophisticated ceiling lift system that allows a single carer to perform transfers of bariatric residents under handset control without stress or strain and with no manual lifting.
Maxi Sky 1000 is simple to operate. Regulation of lifting speed and spreader bar height is programmable from the handset. Several features a brake, lowering system and cord-pull stopping device safeguard the resident in the event of an emergency.
Improving efficiency
The unit is always ready for use. Immediate electronic soft-start and soft-stop means there are no delays or "overrun", ensuring the lift can always be stopped exactly in the required position.
Key features
Maxi Sky 1000 allows safe, comfortable and dignified transfers of bariatric residents.
The lift cassette can be installed on a semi-permanent gantry or a permanent ceiling-mounted straight track.
A full range of bariatric loop or clip slings can be attached to the four-point sling bar.
Maxi Sky 1000 - Product Specification
The list below covers some of the most important features.
Safe working load: 455 kg (1000 lbs)
Installed on permanent ceiling-mounted track or semi-permanent freestanding gantry
Clip-on charging station can be fitted anywhere on track
Electronic soft start and soft-stop
Emergency lowering device
Emergency stopping device
Emergency brake
Low battery lift limiter
Overload circuit protection
Strap length up to 2.3 m (90")
Height from floor to ceiling 2.1-3m (82"-118")
Battery charging indicator
LED indicator for maintanance required
For more information on this and other Arjo products please visit their web site at: www.arjohuntleigh.com