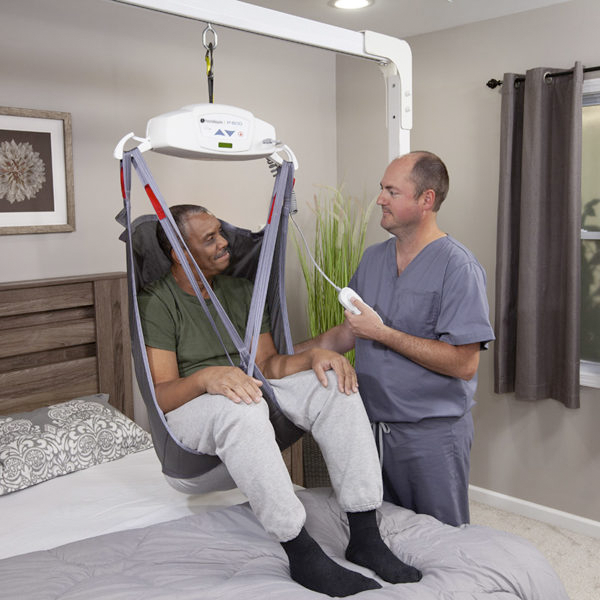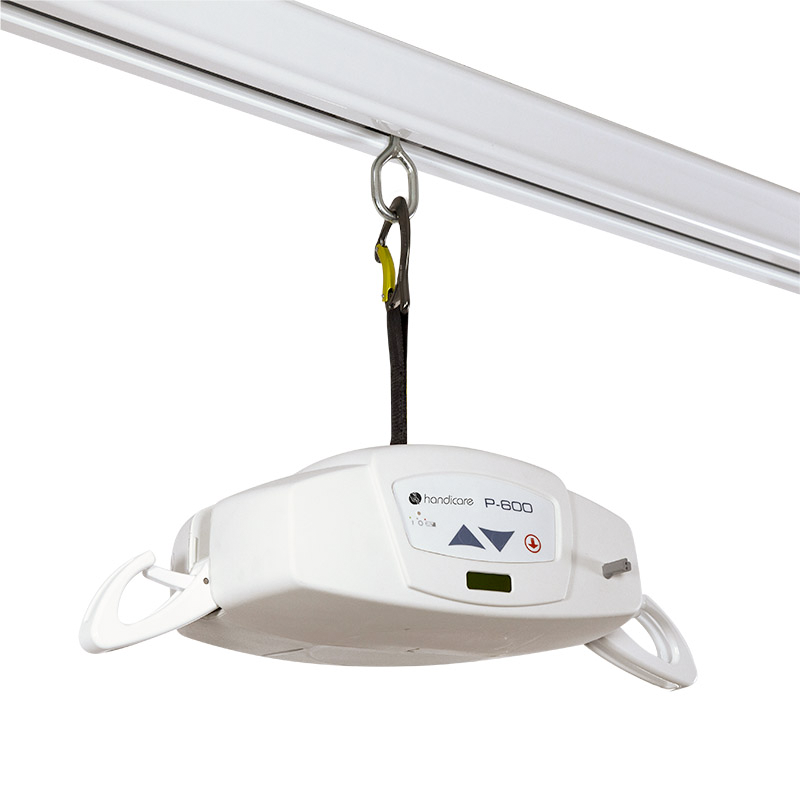 Handicare P-600 Ceiling Track Lift
The P-600 Portable Ceiling Lift is a portable system is a heavier duty lift than the P-440 lift model although it performs the same job in the same way with a few more perks. The biggest perk is it has a capacity of 600 pounds (272 kg).
The P-600 is also designed with a full set of standard features and can be operated safely by a single caregiver. It is heavier than the P-440 at 25 lbs but the extra 160 pounds of capacity makes it more compatible with a wider range of users.
As with all portable ceiling lifts the P-600 can be used throughout the house anywhere ceiling tracking is installed and the extra capacity makes it a good option for institutional use and its waterproof control pendant makes it safe around toilets, baths and pools.
For those who may want to travel to vacation homes or to visit relatives, they can have track installed at the other locations and just transport the lift and sling when traveling. The P-6000 will also work with portable free standing track systems.
Product Highlights
Integral full-width carry bar
On-board controls
Optional cart
Charges from a standard wall outlet
Safety mechanisms: over-speed governor, built-in safety limits, slack strap sensor and emergency lowering
Positive locking latches
Articulating carry bar so the lift sits safe and upright on the optional cart for easy transport
Weight capacity: 600 lbs (272 kg)
Technical Specifications
Charger output 29.5V DC, 1.3amp
Batteries 24V DC (2 x 12V DC), 5Ah
Lift case Flame-retardant ABS
Hand control Pneumatic – piston displacement
Lifting range Up to 80in
Unit weight 25lbs
Safe Working Load 600lbs
Downloads
Handicare P-600 Ceiling Lift Brochure Download
For more information on this and other Handicare products
please visit their web site at: www.handicare.ca or contact them at 877.304.5438.