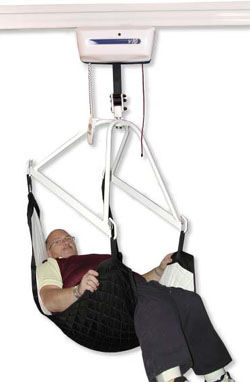 BHM V10 Bariatric Ceiling Track Lift
Note: BHM Medical seems to have disappeared. Their website url, www.bhm-medical.com, now redirects to www.arjohuntleigh.com's ceiling lift page. I'm assuming that BHM Has been taken over by Arjo Huntleigh. People looking for information on BHM products should probably contact Arjo Huntleigh.
I don't know whether this product is still available (I see some dealers still advertising them). I'm leaving the page online as a reference for anyone who might need this information.
A high capacity ceiling lift system that allows a single caregiver to perform transfers of bariatric users without stress or strain and with no manual lifting.
BHM V10 is simple to operate. Several features safeguard the user in the event of an emergency.
The V10 system can be installed on a permanent ceiling mounted track or the flexibility of a free standing semi-permanent rack is available.
Key features
1000 lbs. / 450 kg. capacity
electronic soft-start and soft-stop
emergency lowering device
emergency stopping device
clip-on charging station
return to charge option
emergency brake
low battery lift limiter
overload circuit protection
For more information on this and other BHM products please visit their web site at: www.bhm-medical.com