Barton Ceiling Track Systems (CTL)
Please Note: The Barton lift company has been sold nd thier products discontinued. Our contact info for them is no longer valid. I've left the information on their products here as a resource for anyone interested but we don't have any information on where to get parts or service.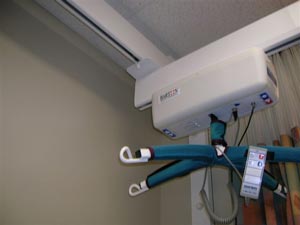 Click here for larger image.
Barton Medical is a manufacturer of a variety of ceiling and floor lift systems with offices in Canada, USA, Australia and the UK.
Available in 450lbs, 650lbs, and 1000lbs capacity.


Constructed with all metal gearing, triple redundant safety system, self-checking circuitry, thermal and weight cut-offs, full back-up controls, and emergency shut-offs.


Five-point carry bar enhances comfort and positioning stability.


Track designs are endless. Single-track, room covering, wall-mount, and free standing systems are some of the options available.


Options include: scales, Return to Charge (RTC) and "cross-the-gap" privacy curtain trolley.


Portable models also available with a capacity of 450lbs., allows a single unit to be operated in many tracked rooms.


Suitable for both Institutional and Home use.
Ceiling Lift Slings
Barton Medical offers a wide variety of slings and is able to customize their slings to meet the needs of the users.
To download detailed information on these slings please click here.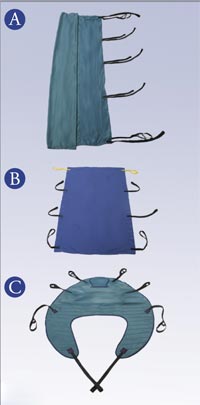 A - Barton Positioning Slings
These slings are used for patient lateral transfers, log-rolls, of moving a patient up or down in bed. These slings can be laundered allowing your facility the ability to maintain a consistent count per department. We offer a variety of weight capacity limits up to 1000lbs.
B - Barton Single-Patient Use Slings
These slings are designed for the same purposes of the Positioning Slings; however, they are single-patient use. When the patient is discharged, you can actually dispose of these slings. The concept behind these slings is reducing cost per item, while allowing you to order in bulk. We offer a variety of weight capacity limits up to 1000lbs.
C - Barton General Purpose Sling
This versatile sling provides head-support and can be used for chair transfers, toileting, or even picking up a patient who has fallen to the floor. These slings are also offered in either re-usable or single-patient use versions with varying weight capacities up to 1000lbs.
For more information on this and other Barton Medical products please visit their web site: www.bartonmedical.com