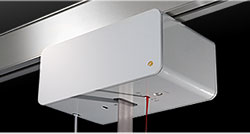 GH3 Ceiling Lift
Guldmann GH3 Ceiling Lift Systems
The Guldmann GH3 model ceiling lifts are state of the art systems designed for professional and institutional applications.
The GH3 is ideal for professional use because of its quiet operation, low electrical requirements and the maximum comfort provided to patients by its virtually unnoticeable transitions between track systems.
This system is always ready for use as the lifting modules continuously recharge while mounted on the rail. These lifting modules move near-silently using only a minimum of current.
Lifting Capacity
GH3 lifting modules can lift users weighing up to 350 kg with one lifting strap and 500 kg with two straps. Lifting speeds are up to 60 mm/sec.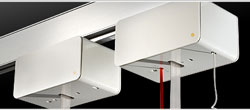 GH3 Twin Ceiling Lift
GH3 Models
GH3 Base Lifting Module

- User-friendly and extremely powerful and fast ceiling lift for permanent installation.
Lifting capacity 550 lbs

GH3+ Lifting Module

- Ceiling lift similar to GH3, but with options like integrated scale, CareLift Management and Service monitoring system and even faster lifting speed.
Lifting capacity 770 lbs

GH3 Twin Lifting Module

- Heavy Duty ceiling lift with double lifting strap.
Lifting capacity 1100 lbs
Track Systems
GH3 rails can be mounted on ceilings, walls or supporting pillars, with unsupported spans of up to 8 metres. Interconnecting elements make it easy to configure rail set-ups for virtually any building, space or requirements.
Ceiling tracks can be incorporated into new constructions making the track a part of the design or be laid out to blend into existing structures as a retrofit installation.
The GH3 Ceilinglift systems have a multitude of track options available and can be customized with switches, turntables, curves and various track mounting systems. For more information on the track options available please visit the Guldmann web site.
Lift accessories and Slings
Guldmann offers a wide range of lift accessories and slings to meet the needs of it users. For more information on lift accessories and slings please visit the Guldmann web site.
More Information
For more information on this and other Guldmann ceiling lift systems
please visit the guldmann web site at: www.guldmann.net/