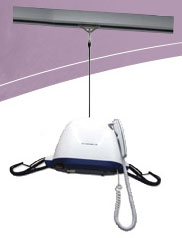 BHM V3 Portable Ceiling Lift
Note: BHM Medical seems to have disappeared. Their website url, www.bhm-medical.com, now redirects to www.arjohuntleigh.com's ceiling lift page. I'm assuming that BHM Has been taken over by Arjo Huntleigh. People looking for information on BHM products should probably contact Arjo Huntleigh.
I don't know whether this product is still available (I see some dealers still advertising them). I'm leaving the page online as a reference for anyone who might need this information.
The new V3 portable track lift combines a solidly engineered design with features you would never expect to find in a portable. Its compact size, folding sling hooks and integrated carry handle make the NEW V3 a breeze to move from room to room.
Features
the V3 weighs in at only 6.5 kg. (14 lbs)
room to room transfers can be accomplished using the swing bar
wide set sling hooks allow a more comfortable transfer for the patient
an ergonomically designed handset and secondary controls mounted on the lift provide real convenience for the care provider
when it's time to charge the V3 simply plug it into the the V4 & V3 set a new standard for easy maintenance: nearest outlet- the charger has been integrated into the lift
maintenance light tells you when the lift needs service- no more guesswork!
modular design: components that require service simply snap out and in.
lightweight construction: moving or removing either lift is easy while the lifting capacity of 200 kg (440 lbs) (31.5 st) remains the same for both lifts
The V3 is designed for use with the new KWIKtrack System
KWIK track uses a revolutionary patented bracket that is 40% faster to install than conventional brackets.
Its unique locking device keeps the track securely fastened.
KWIKtrak's slim design permits a tight 595 mm (23 in.) turning radius on curves.
smooth, seamless joints using a unique pin locking system improves lateral movement and finished appearance.
For more information on this and other BHM products please visit their web site at: www.bhm-medical.com