Lift Aid Transport seems to have disappeared. The information on this page is intended for informational purposes only and as far as we know this product and parts for this product are no longer available.
Lift Aid 2000 Patient Lift System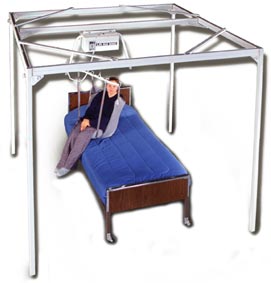 The Lift Aid 2000 is a revolutionary lifting system that provides a reliable, affordable lift system that improves the quality of life for both people with limited mobility and for their caregivers. The lift allows caregivers of any size to lift and transfer individuals, or some individuals to move themselves, around the room with ease, comfort and complete security, all without the physical strains of lifting.
Custom Fit to Your Specifications

The Lift Aid 2000 is an easy to operate patient lifting system that is custom fit to each room's unique dimensions and can lift up to 500 pounds at the touch of a button. Bariatric units are available lifting up to 1,000 pounds. Engineered from heavy gauge steel this freestanding, overhead structure with a sliding transverse beam is so strong that it does not mount or attach to the ceiling, walls or floors of the room. This eliminates any expensive structural changes to a home or institutional setting. The lift assembly moves fluidly in all directions within the room, allowing the consumer to have complete access to the entire room while only using a total of 8 square inches of floor space. Powered by a 12-volt battery, the lift can be used around water without the fear of electric shock.


Benefits of the Lift Aid 2000
Easy to operate
Custom fit to each room
Does not mount to walls, ceiling, or floor
Can lift patients from the floor
Complete access to the entire room
SPECIFICATIONS OF LIFT AID 2000
Height - Seven feet, nine inches standard (7' 9")
Width - Per your room dimension, up to 20'
Depth - Per your room dimension, up to 20'
Weight - 450 lbs. +/- per your room dimensions
Lift Capacity - 500 lbs. Standard, 1000 lbs. Bariatric Eliminates caregiver "double-up" & improves productivity
Frame Construction - 10 gauge powder-coated steel
Power Source - 12 volt sealed gel battery (FAA-approved for use in airplane cockpits; emits no fumes or gases when charging)
Average # of Lifts on fully charged battery - 673 lifts at 170 lbs. 260 lifts at 500 lbs.
Pendulum Remote - Hard wire, 5 volt at 2mm amps (similar to a hearing aid battery) Provides patients with minimal hand dexterity the ability to lift themselves, promoting greater freedom and independence
Self-Adjusting Sling Soft, nylon mesh, medical-grade fabric helps decrease skin breakdown and provides healthy air circulation
Warranty - Two (2) years for most parts and workmanship; the battery is covered by the battery manufacturer's warranty for one year
Free-standing design- assembles in less than one hour Can be readily disassembled and reassembled in rooms of similar dimensions Requires no structural modifications or fortifications
Leaves no damage or marks in the room in which it is installed
Custom-fit gantry design - Provides full access to all parts of the room Allows caregivers to provide bathing, rehab and toilet assistance without rearranging the furniture or equipment No storage space needed for the lift; it virtually "disappears"
For more information on this and other Lift Aid products please visit their web site at: www.liftaid.com