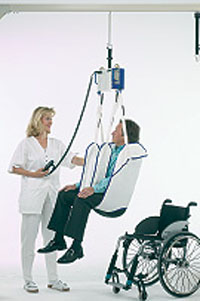 Used Horcher PC-2 Portable Ceiling Lift Available
I've been contacted by a person with a Horcher PC2 system who is looking for someone who may be able to use it. They have two lift units, chargers, trach sections and various bits of mounting hardware.
As these systems are usualy custom designed for specific houses, whoever gets this lift may have to purchase additional parts to make it work in their home however for a simple installation over the bed or bathtub where just a short piece of track is needed there may well be everything needed.
Please note that installation will be required by someone with some basic construction skills and whoever gets this lift systm will have to arrange that for themselves.
This sytems is currently located in The Toronto area and arangements will have to be made with the current owner to arrange how it can be received.
The lift owner hasn't set a price. That's negotiable. The peson owning the lift is more interested in seeing the lift go to soemone in need than making a lot of money on it.
If you have an need for this type of lift and are interested in getting more information, please contact me at horcher@mobilitybasics.ca and I'll forward your information on to the seller.
Below is some basic information on the Horcher lifts for those interested.
---
The PC-2 can easily be taken off one track, carried to another, and reattached, thus avoiding the need to purchase more than one lift for several different locations. Further- more, installing small pieces of track where you actually need it saves on more costly continuous track systems. Available with the most comprehensive product line of slings and models with lifting capacities of up to 600lbs, the Horcher PC-2 just may be the lift solution that you have been looking for.
Specifications
ª
Lifting speed - 6-8 feet per minute
Lifting height - 7 feet
Weight - 18.5lb
Battery - 24 volt DC
Maximum current - 6 Amps
2 year limited warranty, parts and labor
Horcher has a policy of continuous product development and reserves the right to alter technical specification without prior notice.
For more information on this and other Horcher products please visit their web site at: www.horcher.com